All the core features for one simple price
$99/month
+ 1% of sales from connected channels
Bill below $1,000 guaranteed
We cap your bill to ensure you will never pay over $1,000 per month. This means that if your revenue reaches over $90K your bill will not exceed $1,000 per month.
Try GeekSeller for two weeks with no commitment
If you decide not to stay, you are not obligated to pay for the first two weeks.
Enterprise
E-Commerce Multichannel Services for High-Volume Brands
Scalable solutions for businesses that need a technology partner to support their e-commerce operations. Get a dedicated account manager and advanced customization options.
Featured Partnerships
Walmart and Jet

Amazon-Like Fulfillment for Walmart
GeekSeller <> Deliverr Integration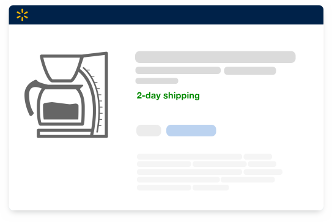 Get Free 2-Day Shipping Badge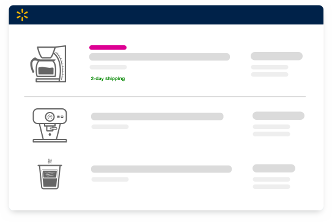 Get Access to Advertising on Walmart.com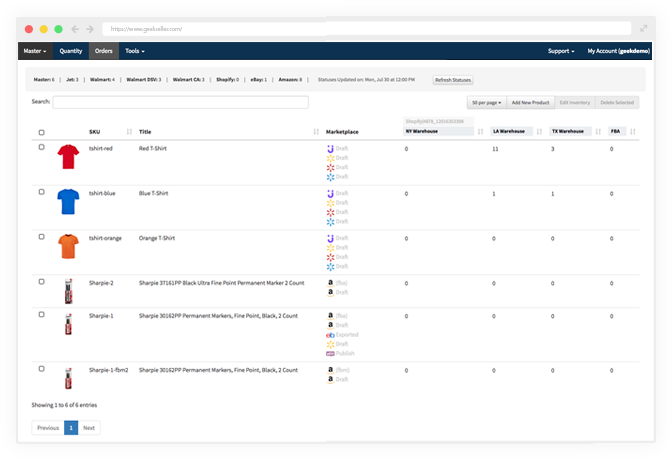 Inventory Management
Synchronize Quantity Between Marketplaces
Manage your inventory quantities from a single location. Your quantities will be updated automatically across the connected marketplaces when orders are placed.
Product Management
Add and Edit your listings via our interface
Manage Jet, Walmart (Marketplace, DSV, Canada), and eBay products from within GeekSeller. We also offer tools for transferring products between most of our available platforms, including from Shopify to Jet and Walmart and from eBay to Jet and Walmart.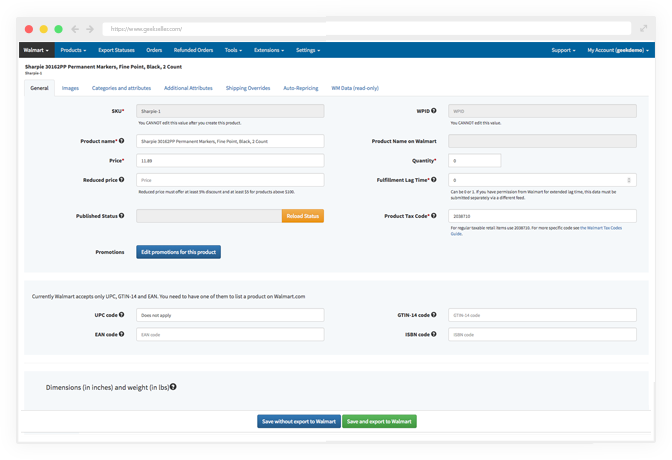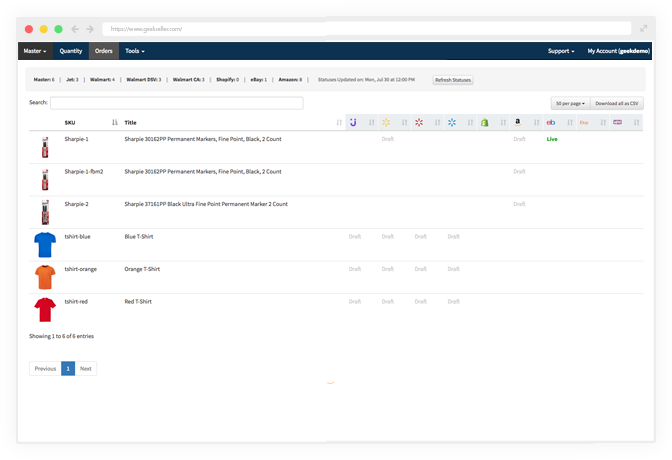 Listing Statuses
An overview of your products across platforms
See your list of products alongside their statuses on each connected marketplace.
Order Management
UPS, FedEx, USPS, DHL
Manage orders for all connected platforms from a single panel. We offer more than 100 carrier integrations and provide USPS Commercial Plus Pricing – the lowest pricing available.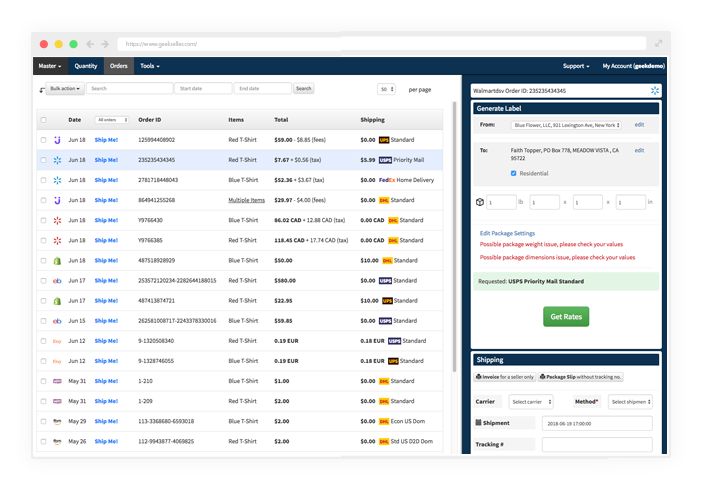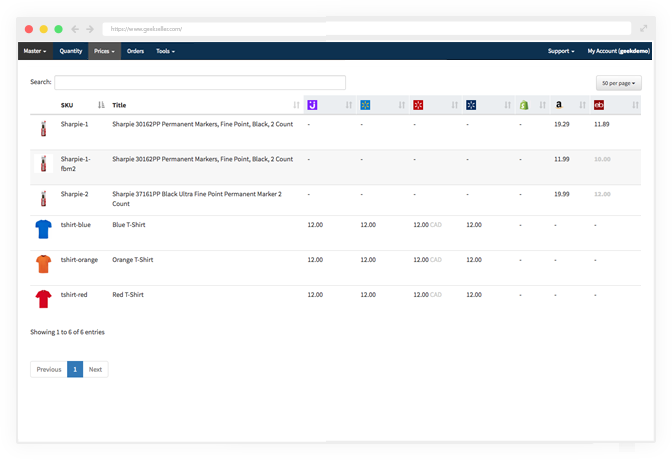 Repricers
We currently offer Jet and Walmart repricers and plan to release repricers for other platforms soon.
Prices
Omnichannel Price Management
Compare and manage pricing for all channels from a single page.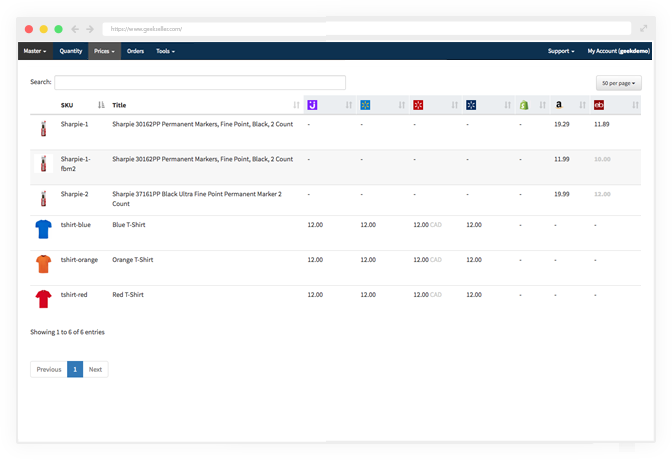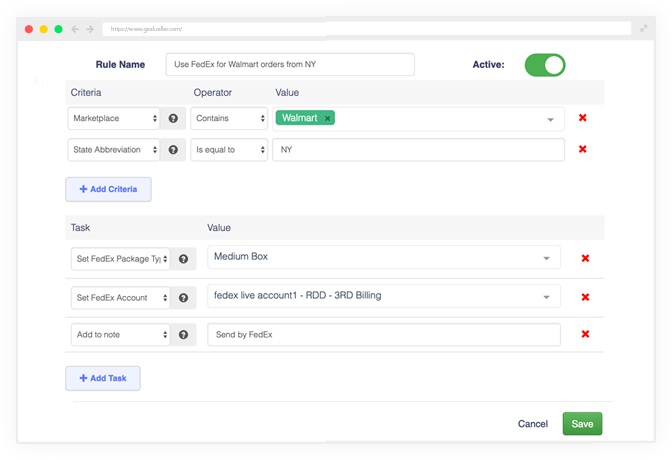 Automation
Create rules to automate tasks
Modify orders and trigger a variety of actions based on your custom rules to automate your work.
Analytics
Data analytics dashboard
Varied cross-channel visual and CSV reports detailing your e-commerce business' trends.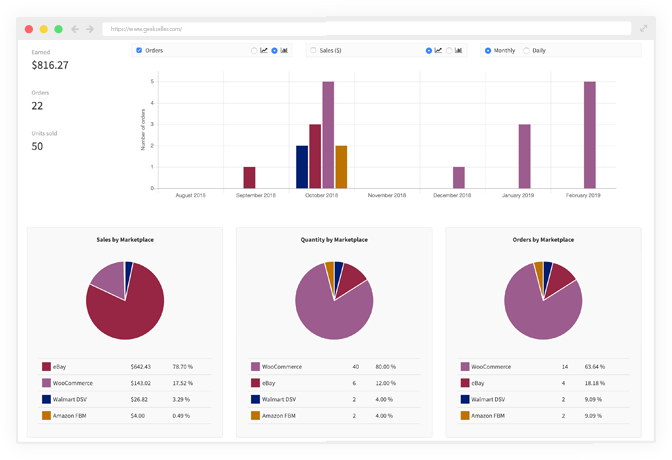 Our Company
We are a U.S. based company with a presence in New York and Texas. We have also some operations in Poland. Most of our team has worked together for the past 8 years, previously running a web design company. GeekSeller was born in late 2015 as a side project to provide clients with a tool for selling on Jet. In January 2016, we officially closed our web design business to devote all of our time to the freshly-public, bootstrap startup – GeekSeller.
Partnerships
We are official API partners of Walmart, Jet, ShipWorks, ShippingEasy, EasyPost, and ShipStation. We are also part of the eBay, Shopify, and BigCommerce Developers Program, we have an approved WordPress/WooCommerce plugin and we work with many innovative 3PL companies. Having an extensive network of partners gives us access to premium resources which enable us to provide superior support to our sellers. We only work with the best companies, that we can recommend to our customers.
Your success is our success
We focus on treating every user and team member with respect. We can all help each other get to the next level by taking practical steps like following-up, over communicating, and serving one another.
Growth-focused and solution oriented
A solid foundation can only be built on earned trust. Did we mess up? We want to know! If you mess up, we'll be upfront with you so we can all make a plan to move forward. No one can grow without finding their blind spots.
We get excited about the future
We want to know what's out there and what we can do with it. We pride ourselves in putting together pieces that no one has before and doing it well. That also means knowing when to ask for help, where to draw the line, and when to say no.