Multichannel Order Management
Generate Shipping Labels for your Multichannel Orders​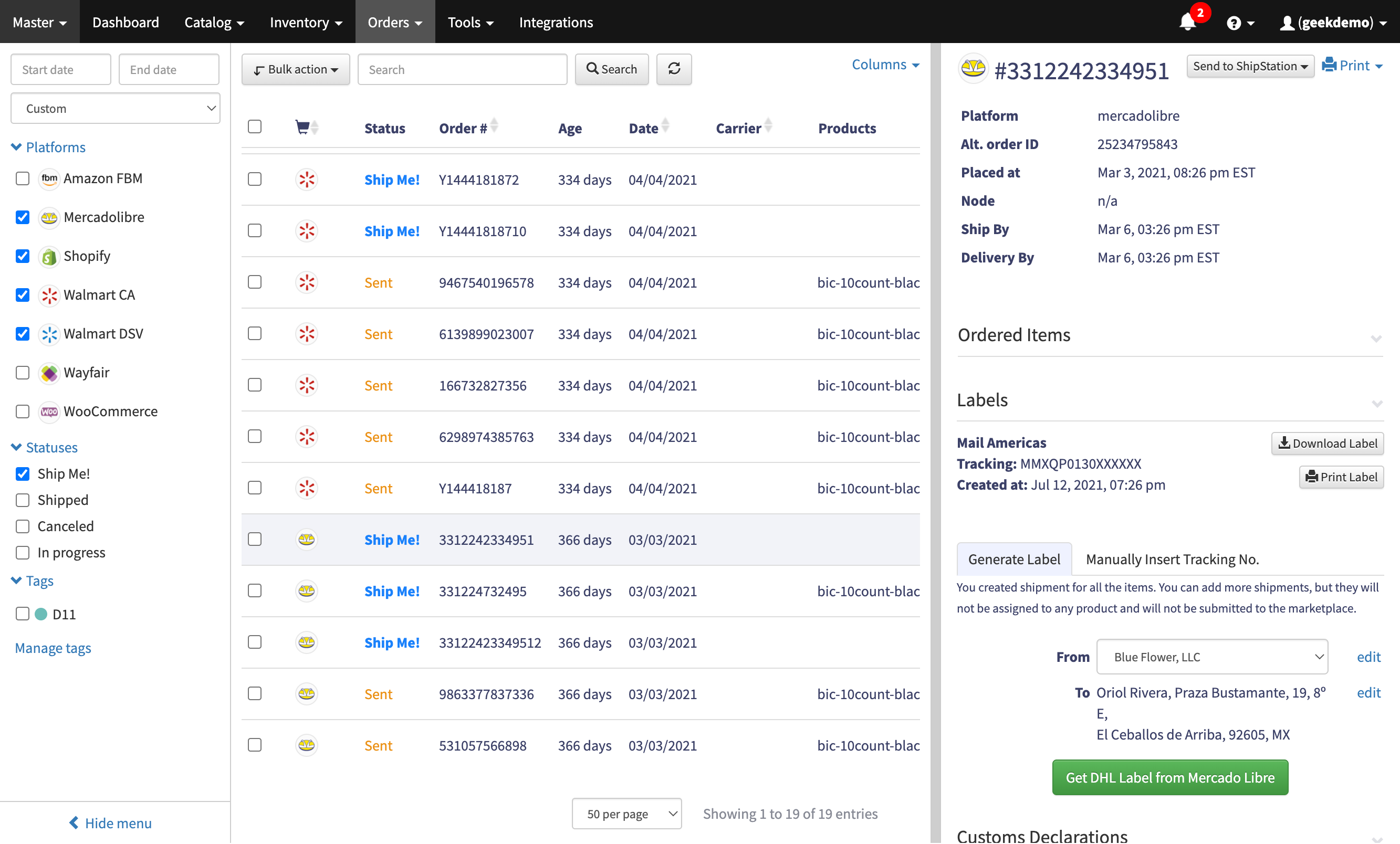 Online Multichannel Order Management System
Running an online business can be challenging when you sell on multiple marketplaces. Small and large businesses face some sort of challenge at one point since it is necessary to diversify their online presence; you never want to be dependent on one online marketplace. Selling on multiple marketplaces and e-commerce platforms means that you need to manage each of these channels separately. Using a multichannel order management system will simplify this process by keeping all your orders in one place to eliminate the need to log in to each platform separately to fulfill orders.
GeekSeller offers an e-commerce order management software that combines all of your orders from online marketplaces into one central location and allows you to generate labels with the click of a button. Our multi-channel inventory and order management software supports all the major marketplaces such as Amazon, eBay, Walmart, MercadoLibre, Shopify, BigCommerce, Google, and more. We also provide an option to import orders from any external sources using SFTP or API.
You can generate shipping labels for your orders directly from our interface. We integrate with all the major carriers such as UPS, FedEx, USPS, and DHL. Thanks to our partnership with EasyPost, we integrate with over 100 carriers and provide USPS Commercial Plus Pricing – the lowest available.
One of the useful features of labels generation in the order management view allows sellers to browse rates from available carriers. Shipping cost values adjust dynamically as you change the parameters, allowing you to find the best choice to ship your order.
This is the essence of a proper multichannel order management software, providing tools to streamline order management and shipping labels creation.
Order management and label creation can be also automated with bulk actions by creating so-called batches. Sellers can select orders and create shipping labels in a few clicks. Miltiorders labels generation can save a lot of time for sellers with many purchases.