Many sellers sign up for Fulfillment by Amazon (FBA) and get their listings Prime-enabled, then stop there. However, Amazon Prime isn't the only fast-shipping program that gives eCommerce sellers an advantage. Walmart 2-Day shipping, eBay Guaranteed Delivery (eGD), Wish Express, and Google Express are all vital to diversifying your online profits.
Your customers love fast shipping. 80% want same-day shipping and 61% want same-day delivery, but only 53% of sellers offer it. Your customers expect you to make things as easy and convenient for them as possible. The tighter your user experience, the higher your chances for success, especially in third-party marketplaces.
That's where joining fast-shipping programs comes in. Getting your items on quick shipping programs will add fast shipping tags to your listings, indicating that customers can get those items quickly.
Here are five compelling reasons you should be on the fast-shipping programs your marketplaces offer.
---
1. Products show up higher in search
Successful marketplaces know how much their customers value expedience, which is why they make it easy to search for items based on shipping times.
Walmart's recent website redesign gives preference to items with 2-day shipping and helps sellers land the Walmart buy box, allowing quick delivery to fight low prices.
Enabling fast shipping tags grants more visibility even if shoppers don't filter for 2-day delivery.
The search results below are set to "Show all," yet the first 2 rows of products all have the coveted green 2-day shipping tag.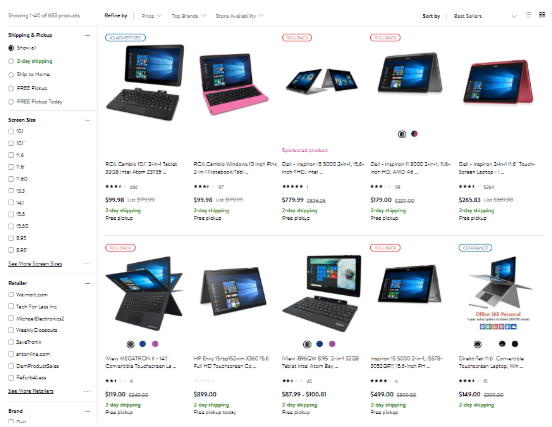 Walmart isn't the only marketplace where quick shipping increases visibility (and conversions). On eBay, users can toggle on the "Guaranteed 3 day delivery" option in the top-right hand corner of the search results.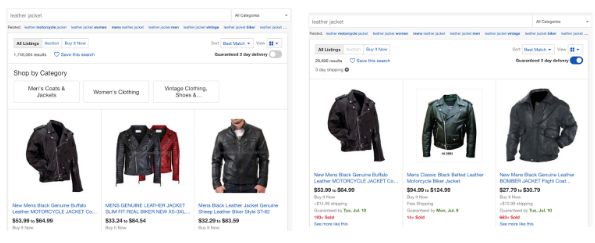 This means that Cassini, eBay's search engine, features items from sellers enrolled in eGD higher up the list, giving you greater visibility and better access to last-minute shoppers. This lets you compete for the tops spots without lowering your prices.
---
2. Strengthen loyalty and increase customer retention
Lightning-fast shipping that arrives on time helps build trust in your brand, so customers feel secure about buying from you. This trust quickly becomes loyalty, and loyalty leads to higher retention rates and increased Customer Lifetime Value (CLV). If you deliver what your buyers want, quickly and efficiently, why would they waste time looking for alternatives?
Loyalty built through excellent service is one of the reasons Amazon Prime customers convert 74% of the time while non-Prime customers buy just 13% of the time. Prime is one of the best established fast shipping programs out there, and as other marketplaces develop their own, results are likely to follow a similar trajectory.
---
3. Woo last minute shoppers
How often do you need something last minute, but don't have the bandwidth to go to the store for at least another week? Your customers struggle with the same issue. Fast shipping programs meet this demand.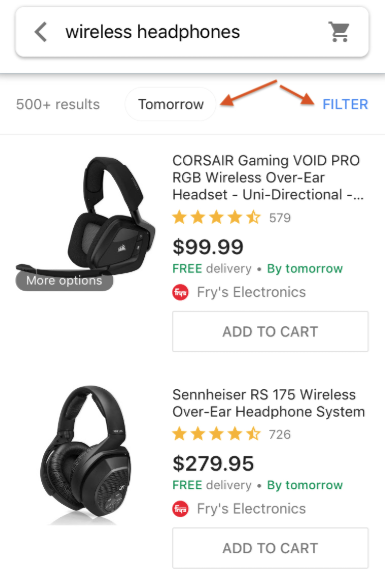 Google Express makes it easy to filter items based on delivery time. Customers can choose same-day (in eligible locations), next-day, or two-day delivery and order through the app or through Google Assistant. This adds an extra layer of immediate convenience, especially for shoppers that use Google Home.
Whereas Amazon is concerned with promoting its own brand and products, the Google Express marketplace comes across as more of an Uber-style eCommerce solution. Google isn't competing with you, you're just competing with other vendors, something you're already good at.
---
4. Increase conversion rates
Joining fast-shipping programs decreases customer fear, one of the key factors that influences buying behaviour. How? By guaranteeing (as much as humanly possible) that they'll get what they want exactly when they need it. This, in turn, increases conversions.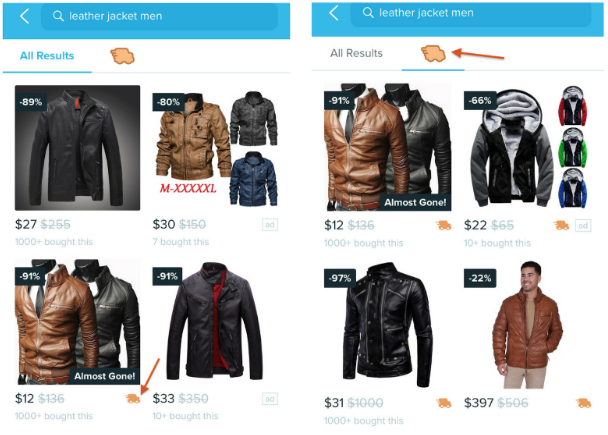 For example, Wish Express makes it easy to see which items have fast shipping. When prospective buyers scroll through the Wish app, the truck icon shows which items are eligible for Wish Express. And if you are looking for something to get delivered quickly, you can click on the truck icon in the top menu and just scroll through those items.
Like with the green Walmart 2-day shipping tag and eGD filters, this search option favors sellers that deliver quickly. Fast shipping programs help increase conversions by decreasing the risk of buyers getting what they want too late.
---
5. Increase overall sales
While increasing conversions is all well and good, if you want to grow your business, you need to increase the pool of customers that shop with you and how much they spend.
Joining fast shipping programs can increase product exposure. Every successful eCommerce business needs to bring in a steady stream of new customers. However, your long-term success hinges on your customer retention skills, and the kind of shopping experience you create.
By 2020, customer experience will be just as important as price and product when it comes to standing out, and an essential part of closing sales. Fast shipping and frictionless delivery is one of the key ways you can do that. The other, is personalization.
Marketplaces are naturally limiting when it comes to branding and adding a personal touch. Some, like Amazon, are more strict; you can't point users to your website or upsell. However, you can still work within the rules to make customers feel special, and delivering quickly is a big part of that.
Creating that trust can lead to great reviews and recommendations to friends and family. You can then leverage the reviews on your website and other platforms to further increase sales.
---
Instant gratification will always win out
As the battle for customers wages across the eCommerce space, the companies that offer fast, reliable convenience will win out.
Customers favor sellers that deliver, and deliver quickly. Joining fast-shipping programs across the different marketplaces you sell on, as well as adding a fast (and ideally free) shipping option to your own site, will help you increase conversions, improve customer retention, and sell more products to happy clients.
---
About the Author
This is a guest post from Michael Krakaris of Deliverr. Deliverr provides fast and affordable fulfillment for your eBay, Walmart and Shopify business. With Deliverr you can accelerate your online sales by activating Walmart 2 Day tag, eBay Guaranteed Delivery and 2 Day Shipping on Shopify.
Deliverr's FBA like multi-channel fulfillment comes with clear pricing, easy on-boarding and a hassle-free experience so you can focus on growing your ecommerce business.