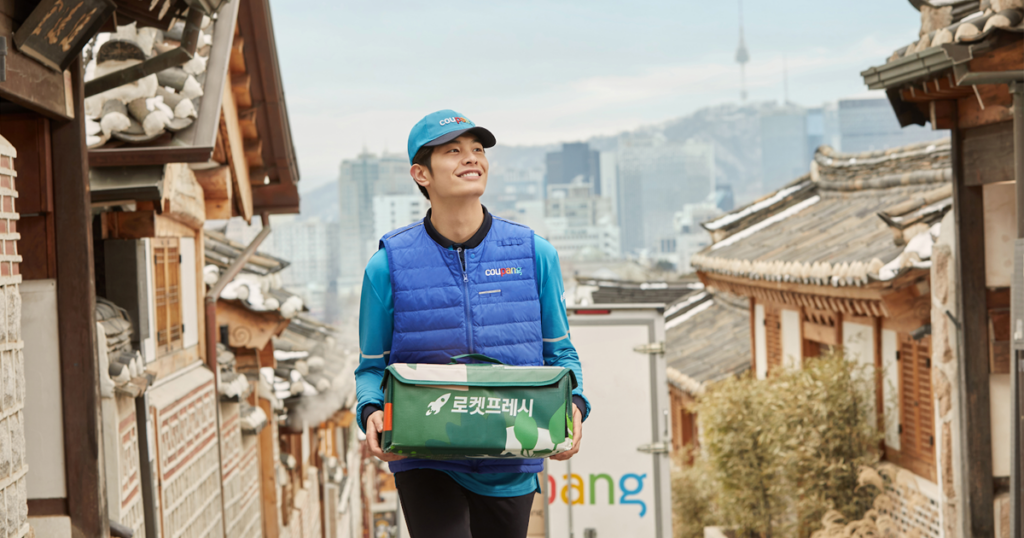 Ready, Set, Sell to Korea.
Poised to become the world's third-largest e-commerce market by 2025, South Korea is a veritable e-tail heavyweight. A whopping 51% of Korea's retail transactions take place online, 72% of these occurring via mobile, and in 2021, its consumers spent more than USD 153.4 Billion on online shopping. Many factors contribute to Korea's love of e-Commerce, and one of those is the game-changing breakthrough of Coupang, its leading e-Commerce platform.
Coupang, a Korean e-Commerce Game-Changer
Often dubbed the Amazon of Korea, Coupang has been changing the way Koreans shop since its launch in 2010. Last year, the company was listed publicly on the New York Stock Exchange, cementing its position as a major player in global e-Commerce. The company is making good on its mission to create a world in which customers ask, "How did I ever live without Coupang?" with more than 18.1 million active customers and 66,000 employees across Korea. In Q1, 2022, Coupang's Product Commerce Revenue was $4.9 Billion, up 20% YoY and 30% on a constant currency basis, outpacing the Korean product e-commerce segment growth rate by a multiple of three! With this robust growth, Coupang Marketplace offers cross-border sellers an effective way to sell to one of the world's biggest e-commerce markets.
What Sets Coupang Marketplace Apart?
Customers, Customers, Customers!
Over the past year, Coupang's customer base has grown by 13% and now comprises approximately 31% of the country's entire population. Its popularity is reflected in the fact that it's also the leading retail app across all age groups. Plus, spending per customer continues to rise. That's music to any seller's ears.
Seller Support Catered to You
Unlike many other marketplaces in Korea, Coupang thinks and speaks globally. From its seller management portal, WING, to its educational material and seller support team, everything is multi-lingual because Coupang Marketplace is committed to its mission to bring the world to Korea. Coupang's specialized Account Managers also provide sellers with dedicated 1-1 support, helping sellers to grow their business.
Flexible, Scalable Solutions for Sellers
Coupang provides an Open API platform that you can integrate with to list products and manage your orders within your own systems, in addition to using WING, Coupang's seller management portal. Various marketplace aggregators that support listing on Coupang through their platforms. If you are using these providers to manage your business across multiple marketplaces, you can easily import your listings to your Coupang store and start selling quickly.
Coupang Connects You
Entering a new market can be a daunting task, but one of the benefits of selling with Coupang is its invaluable Service Provider Network, which provides sellers with a host of trustworthy partners who can cater to various business needs from translation and imaging to logistics.
Signing Up is Easy & Free
We'll talk more about the process later but put simply, signing up to Coupang is a breeze compared to many other marketplaces. You don't need a Korean business license or a bank account, and there's no registration fee. This means even if you're a smaller scale seller, Coupang is a great place to dip your toe in the Korean e-Commerce water!
What Should I sell on Coupang Marketplace?
Coupang is a one-stop-shop for virtually everything from fashion to cleaning supplies, so the possibilities for sellers are endless (Certain items may not be sold on Coupang. Please find a comprehensive list here). That said, given the popularity of US products on the platform, it's a good idea to take into account which categories are particularly sought after.
Health supplements: In a health-conscious country like Korea, US health supplements are the mainstay when it comes to top-selling items. North American brands are well known and held in high regard, which helps sellers overcome any obstacles around awareness.
Consumer electronics: Tech-savvy and trendy Koreans are constantly looking for the latest gadgets at affordable prices. In fact, keywords such as 'Ipad' and 'AirPods' are among some of the most highly searched terms on Coupang.
Coffee & beverages: It may surprise you to find out that Korea is one of the world's biggest coffee drinking countries. As a result, coffee, particularly coffee capsules, are in high demand on Coupang.
Fashion: Seoul is one of Asia's fashion capitals, so it's no surprise that both high fashion and high-street fashion labels are popular on Coupang. Branded sneakers such as Nike kicks and designer handbags by the likes of Marc Jacobs and Michael Kors are always in vogue.
When it comes to selling branded items, Coupang has zero tolerance for counterfeit products, so it's important to review the IPR policies so that customers know your product is genuine!
How Do I Sign Up?
If you're ready to start the sales journey with Coupang, you can start the sign-up process here. Make sure you have the following documents ready to speed up the process, and if you have any questions, don't hesitate to reach out to Coupang's friendly support team at helpseller_global@coupang.com.
Valid business license – You need to provide EIN Confirmation Letter and Tax Form for US sellers.
Proof of identification – Valid passport or government-issued ID of the business owner
Bank letter/statement – Bank letter or statement that shows bank name, bank address, account holder, account number, and SWIFT code. The bank account holder must match the business entity.
Proof of business ownership – Documented proof of relationship between the business owner and the business entity
For sellers who want to learn more about how Coupang marketplace can take their business to the next level, check out the global seller website.