GoDaddy has recently launched a new solution to make it easy for sellers to create a WordPress store through its Managed WooCommerce Stores offering. This solution reduces the number of plugins required to run an online store, providing everything needed to sell online in one convenient package. A spokesperson for GoDaddy explains that traditionally, setting up a WordPress store can be a complex process that requires entrepreneurs to maintain a complex technology stack. However, with GoDaddy's Managed WooCommerce Stores, this process is greatly simplified and streamlined, providing a user-friendly platform for sellers to easily set up and manage their online store.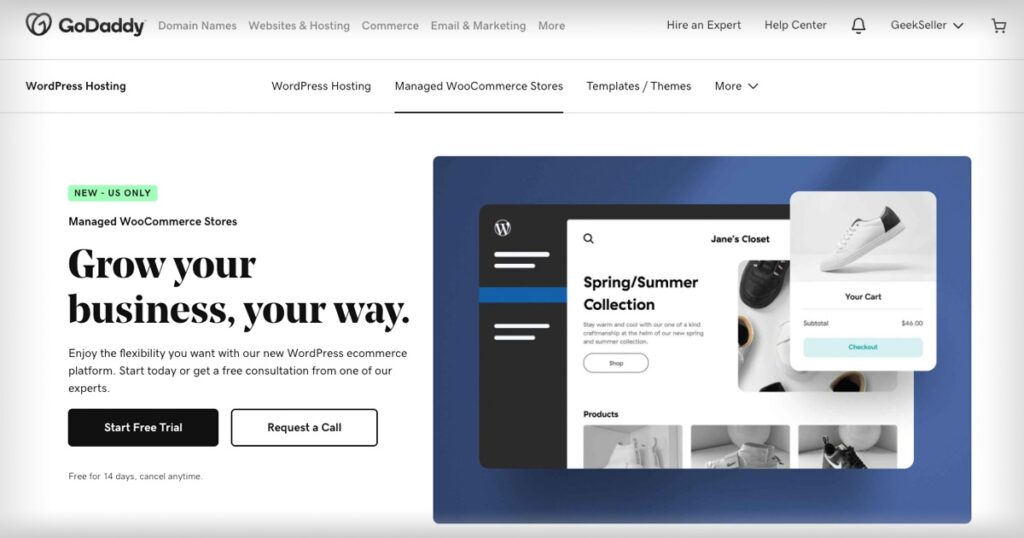 Furthermore, this new solution also offers the added benefit of enabling sellers to easily sell both online and in-person, across multiple marketplaces and social channels, including Google, Etsy, eBay, Walmart, and Amazon, all through one unified dashboard without needing to download additional plugins. This feature is a first for WooCommerce and has the potential to greatly expand the reach and visibility of a seller's products. This makes it easier for sellers to reach a wider audience and increase their sales.
In addition to simplifying the setup process and expanding sales channels, the new WooCommerce solution also offers over 25 premium extensions to enhance the functionality of the store. These extensions include features such as product filtering, advanced reporting, and real-time shipping rates. This makes it easier for sellers to manage and optimize their store, making the process more efficient.
GoDaddy Commerce President Osama Bedier, formerly of Poynt, Google, and PayPal, said with the new Managed WooCommerce Stores offering, "we wanted to manage complexity and ensure ease-of-use, yet deliver the nearly infinite flexibility of WordPress to empower growing businesses to operate at peak performance while selling exactly the way they want."
GoDaddy's Managed WooCommerce Stores leverages technology from its acquisitions of Poynt and Pagely in 2021, SkyVerge in 2020, and Sellbrite in 2019. This allows GoDaddy to offer an advanced and robust platform that is built on the latest technology and provides sellers with the tools they need to succeed in the highly competitive e-commerce market. Overall, GoDaddy's Managed WooCommerce Stores is a powerful solution for businesses of all sizes looking to sell online, that aims to simplify the process and maximize sales potential. It offers an efficient and user-friendly platform for sellers to set up, manage and grow their online store with ease.