JET Growth
Since its launch in July 2015, JET has experienced growth, thanks to advertising and media coverage. Since September 2015, sales have increased by 28% each month through February 2016, and they experience a predicted slowdown of sales when the holidays ended. In addition, JET acquired Hayneedle.com, which is a home décor merchant.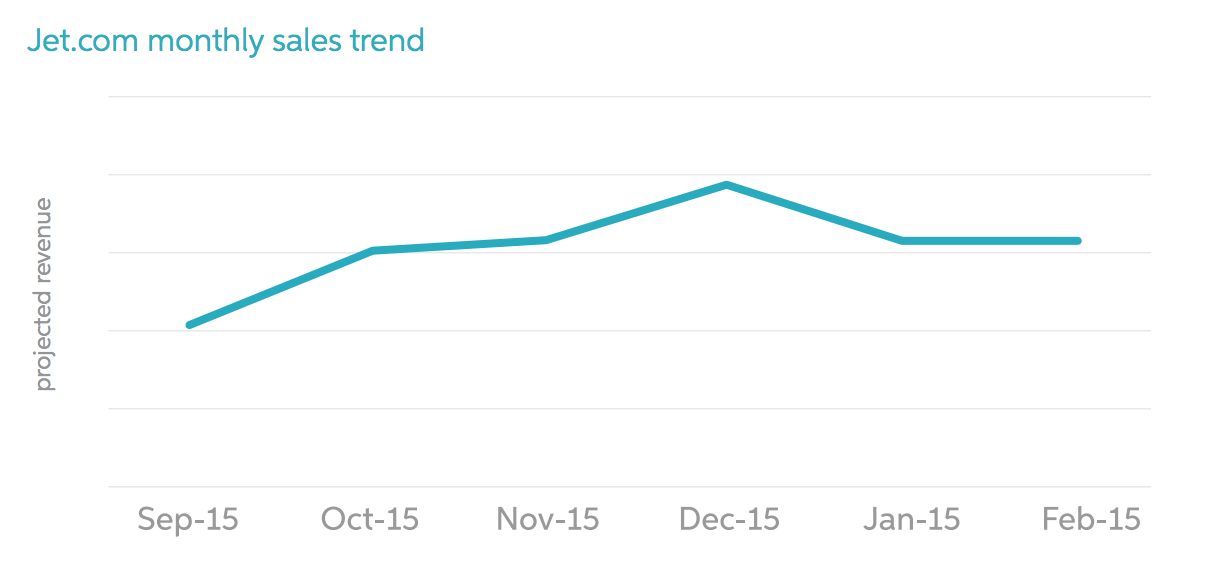 Source: intelligence.slice.com
JET Advertising
JET is prepared to spend up to $25 million per month on advertising to continue to grow and compete against Amazon.com. Advertising is a big part of JET's business strategy to continue its growth momentum.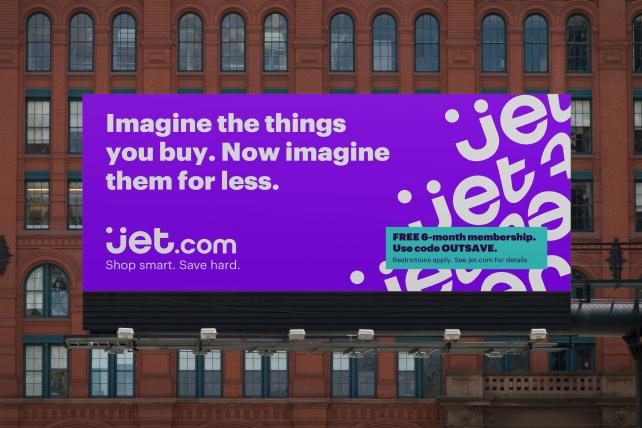 Credit: Jet
JET is Dependent on New Customers,
but Likes Repeat Customers too
As with all new businesses, JET is banking on its advertising to bring in new customers. 80% of revenue in December 2015 was from new customers, rather than repeat customers (20%). In February 2016, 70% of customers were new, while 30% were repeat customers. However, JET is noticing a problem. Their repeat customers have purchased at a rate of 1.5 times, while compared to Target at (2.2%) and WalMart.com (2.1%).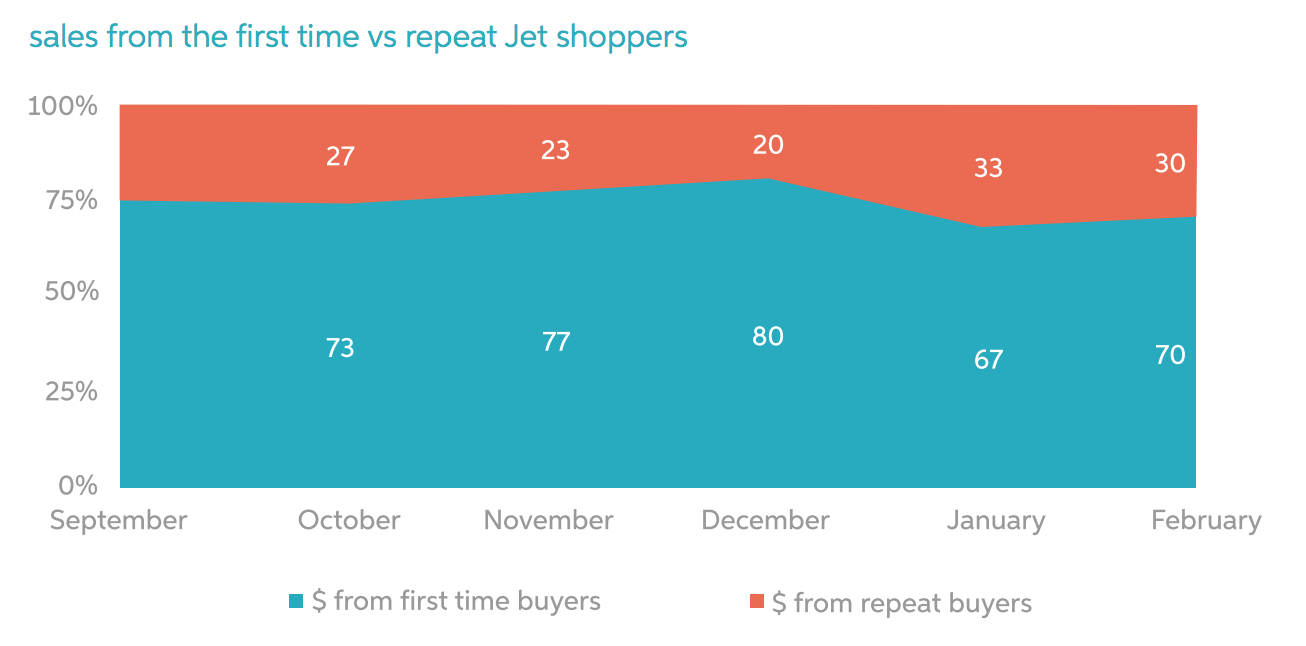 Source: intelligence.slice.com
JET's Strong Sellers Against Amazon.com
& Amazon's Top Sellers Against JET
The categories that JET is doing well in are listed in order of strongest down to the weakest. This means that at the top, JET generated a larger portion of more sales in those categories. JET did the best against Amazon in Grocery & Gourmet food. Amazon did the best against JET in Books and Apparel & Accessories.
The list tops with Grocery & Gourmet Food, Home & Kitchen, Health & Beauty, Baby Products, Electronic & Accessories, Pet Supplies, and lastly Jewelry & Watches. The categories that Amazon.com are outselling JET are listed from least in competition to strongest. That list consists of: Software & Mobile Apps, Appliances, Movies & TV, Music, Office Products, Sports & Outdoors, Shoes, Automotive, Toys & Games, Tools/Home Improvements, Books, and Apparel & Accessories.
What sells best on Jet?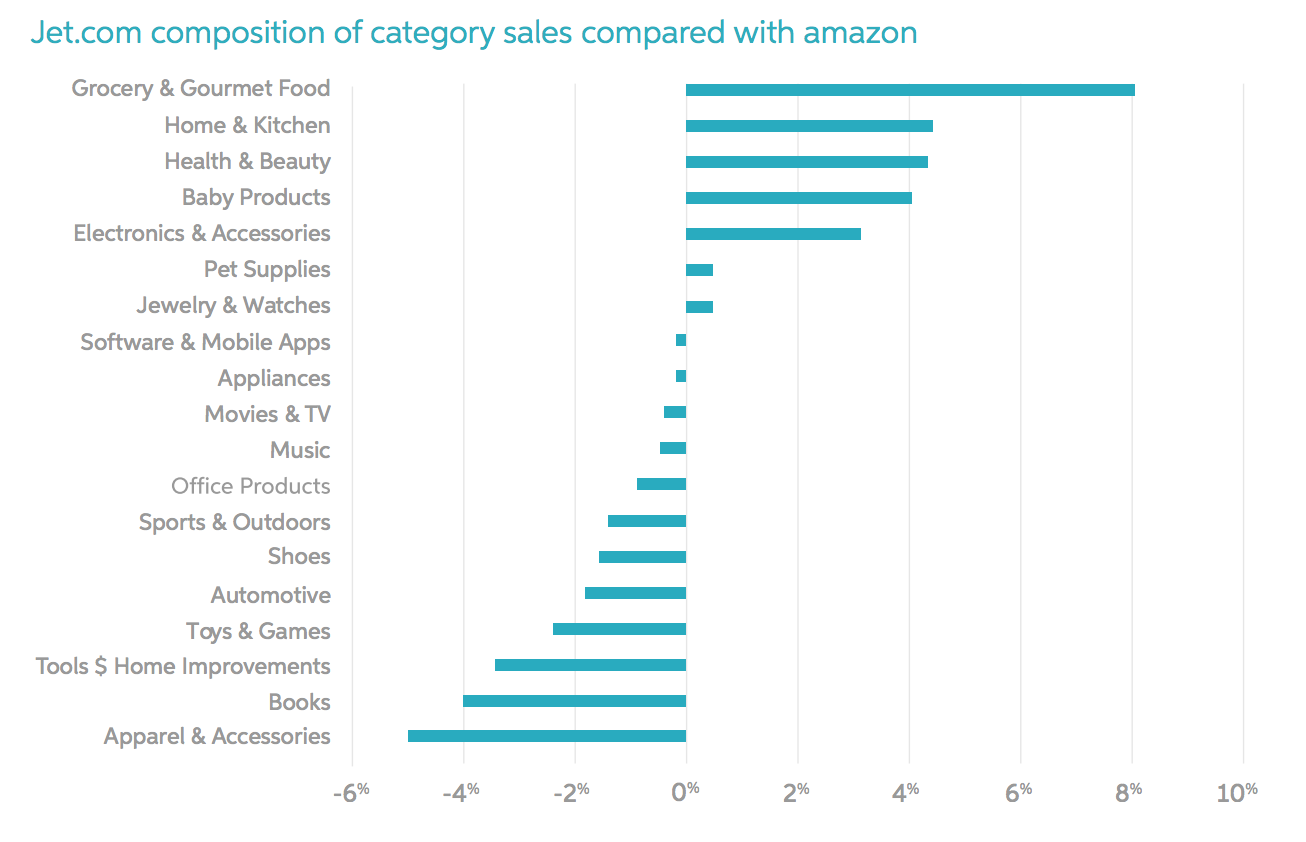 Source: intelligence.slice.com
JET's Smart Cart
JET's proprietary Smart Cart is one of their main weapons in e-commerce. This Smart Cart is an engine that can match supplies with a customer wanting to add some more to their online shopping cart to get the free shipping at $35 order size. This have allowed JET to increase its order size with shoppers in comparison with other online competitors Costco, Target, WalMart, and Sam's Club. JET also has a higher rate of multi-unit purchases of the same product vs. these other competitors. JET has even noted that 20% of items purchased on their site is for a quantity greater than one.
Key Point: JET's Smart Cart makes a unique win-win-win scenario between the customer, the manufacturer, and JET.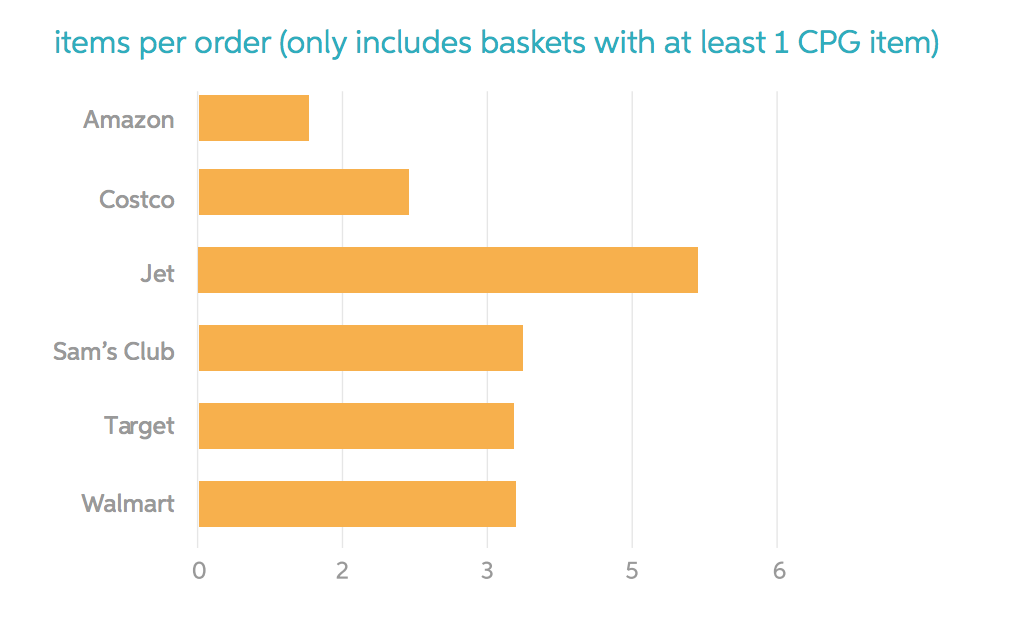 Source: intelligence.slice.com
Further Questions for JET
Will JET get repeat purchases from first time customers?

Will JET's Marketing efforts grow their user base?

Will JET increase order sizes with the Smart Cart engine?
---
Source: Whitepaper – April 2016 – Jet.com, How will it land?