In the summer of 1962, Sam Walton (then 44) opened the first Walmart store in Rogers, Arkansas. Over the years, his family has expanded, becoming the largest retailer on the planet, and now they're taking over the Internet.
During the first quarter of 2019, Walmart's U.S. business put up comparable-store sales growth of 3.4% — the best rate in nine years — for a grand total of 80.3 billion dollars in net revenue. And 1.4% of that total growth was in e-commerce, including order-online pickup in-store, according to The Motley Fool.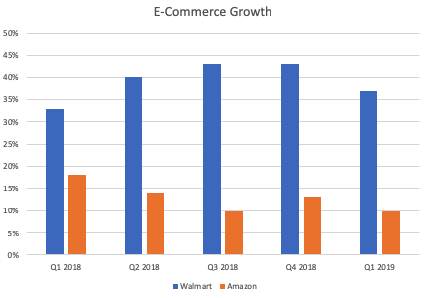 There are a lot of good things going on for Walmart now. On top of great financial results, they've proven to be a real Amazon competitor.
Why should you sell on Walmart?
Walmart's growth in e-commerce, both in the number of products and sellers is very impressive.
It has never been easier for merchants to publish their products on Walmart's online marketplace and benefit from being associated with such a recognizable brand. It's the perfect time to diversify your distribution channels and get your products on another fast-growing marketplace.
How to sell on Walmart's Marketplace
Before applying to sell on the Walmart marketplace be sure to review the following requirements:
Study the list of restricted brands and products to make sure your products are not there.
Have an identifier like a UPC, EAN, or GTIN to each of your products.
Make phone and email support available to your buyers.
Make sure you can ship products in plain, unbranded boxes.
Make sure you're able to ship across the continental United States.
Walmart is looking for sellers who can offer high-quality new or refurbished products.
A big part of Walmart's offer is low pricing for buyers. Is your pricing competitive?
You should have an established online reputation, a working website, and good reviews on other marketplaces. Walmart will review these as indicators of the quality of your products and support.
Want to learn more about selling on Walmart?
Meet the Walmart and GeekSeller teams live!
Learn more about Walmart's online marketplace.