As a new seller seeking to establish a presence on Walmart.com, it is imperative that you take advantage of the New-Seller Savings promotion currently underway. This promotional event, which was also run last year, offers a range of opportunities for you to succeed as a seller on the Walmart Marketplace.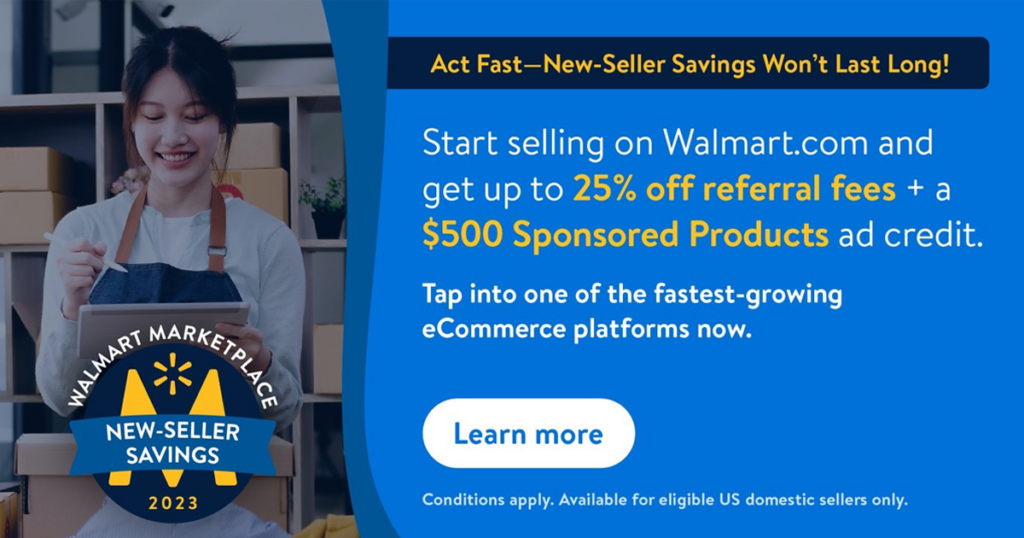 For a limited time, new sellers can receive a discount of up to 25% on referral fee rates for up to 90 days, plus a $500 Sponsored Products ad credit. Here's how it works:
Complete the New-Seller Survey – Before you go live, be sure to complete the New-Seller Survey. Doing so will earn you an initial 10% reduction in referral fee rates.
Enroll in Eligible Programs – By enrolling in the following programs, you can enjoy an additional 5% reduction on eligible products:
Receive Your $500 Sponsored Products Ad Credit – Three weeks after the onboarding, you will receive an email with instructions on how to unlock your $500 Sponsored Products ad credit.

Don't wait – start selling on Walmart.com now and take advantage of the New-Seller Savings promotion. This is your chance to access Walmart Marketplace's ecosystem of solutions at a reduced cost. But act fast – this opportunity is only available for a limited time.
Important Information
It's important to remember that simply enrolling your products in Walmart Fulfillment Services (WFS) does not guarantee you a discount. To receive the discount, you must also have your products fulfilled by WFS. If you have set up a product in WFS but continue to fulfill it through your own logistics network, you will not receive the additional 5% discount. The same applies to enrolling in Walmart Sponsored Search. Unless you spend at least $1 on promoting your products, you will not be eligible for the additional 5% referral fee discount.
Creating a Walmart Marketplace account is quick and easy, taking only about a minute. Afterward, simply complete a three-step setup process to start your onboarding journey. The following information is needed to be approved to sell on the Walmart marketplace:

Business Tax ID(s) (SSN not accepted) or Business License Number
Supporting documents that verify your Business Name and Address
History of marketplace or eCommerce success
Products that have GTIN/UPC GS1 Company Prefix Numbers
The catalog that complies with Walmart's Prohibited Products Policy
Fulfillment through Walmart Fulfillment Services (WFS) or another B2C US warehouse with returns capability

The referral fee rate discounts for the Marketplace are applied on a weekly basis every Friday. This means that your 90-day period of up to 25% off referral fee rates will commence within the week of your official launch date on the site.
---
In conclusion, the New-Seller Savings promotion is a unique opportunity for new sellers to maximize their success on Walmart.com. By taking advantage of the discounts and ad credit, you'll be able to grow your business and reach more customers on the Walmart Marketplace. So, don't delay – go live today and start saving!