Are you an Amazon seller who uses the Fulfillment by Amazon (FBA) service? If so, you may want to pay attention to this update from Amazon. On January 31, 2023, the company will be replacing six inventory reports with a single, comprehensive report called the FBA Inventory Ledger.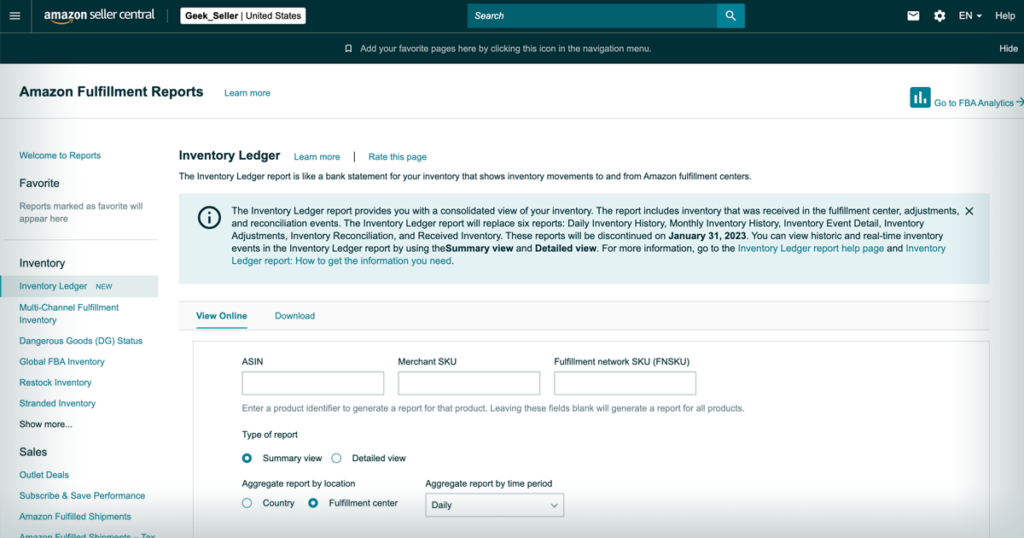 The new report will provide all of the information that was previously contained in the six different inventory reports but in one convenient location. This means that sellers will no longer have to navigate through multiple reports to get the information they need.
However, before the switch takes place, it might be sensible to download data from the six reports that will be replaced. Once the new report is implemented, sellers will no longer have access to the old reports.
The six reports that the FBA Inventory Ledger will replace include the following:
Daily Inventory History
Monthly Inventory History
Inventory Event Detail
Inventory Adjustments
Inventory Reconciliation
Received Inventory reports.
According to Amazon, the Inventory Ledger report will offer both a Summary view and a Detailed view. The Summary view will be updated daily, weekly, or monthly, depending on the time period selected, while the Detailed view will be updated in near real-time. The report will also show a seller's starting inventory balance, inventory received in the fulfillment center, customer orders, customer returns, adjustments, reconciliation events, removals, and ending balance.
To avoid disruptions to your business, Amazon advises switching from the old reports before January 30th. With the new report, you will have all the necessary information in one place, allowing you to make better decisions and grow your business.