Starting from June 6, Walmart is modifying its automatic cancellation window, reducing it from 6 days to 4 days post the Estimated Ship Date (ESD). In essence, sellers will have to provide valid tracking information to buyers by the ESD, and definitely no later than 4 calendar days post-ESD. Orders failing to comply with this will be automatically cancelled, potentially impacting sellers' cancellation performance metrics.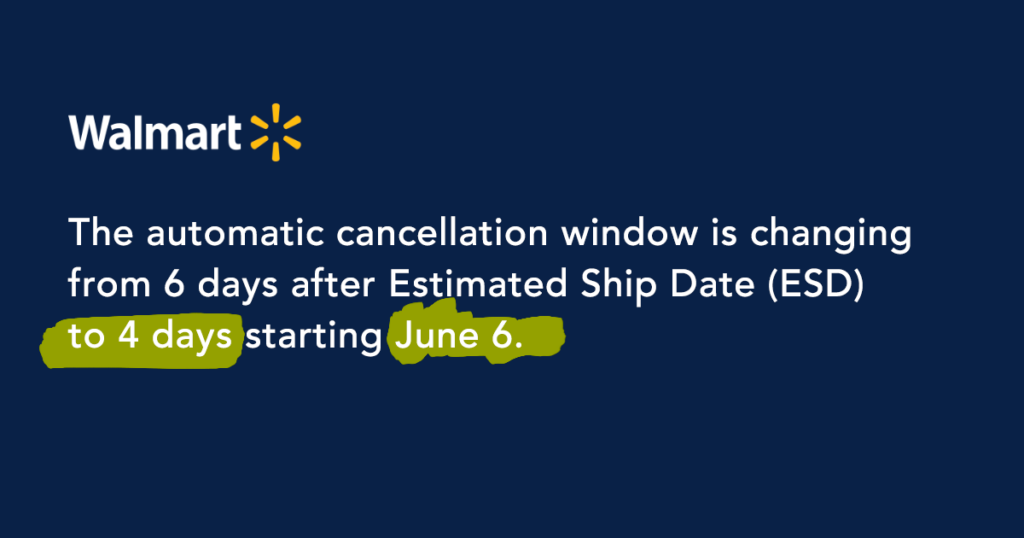 Walmart suggests several strategies to prevent auto-cancellations:
Update order status to "shipped" as soon as the carrier takes over.
Cancel orders proactively that can't be fulfilled by the ESD.
Utilize faster carrier methods, if possible.
Consider enrolling in Walmart Fulfillment Services for efficient and swift fulfillment.
Bear in mind that frequent order cancellations can negatively affect your Cancellation Rate performance metric and the overall customer experience. For more advice on dodging auto-cancellations, check out Walmart's article on Performance Alarms.
This is a noteworthy change by Walmart aiming to enhance its customer service. As sellers, it's important to adapt to these adjustments to maintain a strong performance on the platform.
Email sent to sellers about this change in the policy: