Selling on Walmart marketplace? Action Required!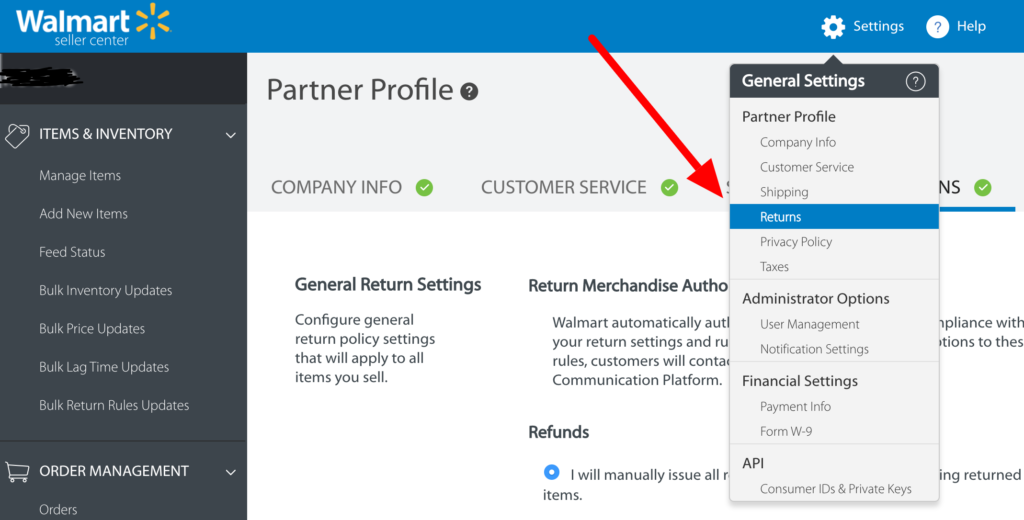 You can update your settings and activate the new return program now. If you haven't made these changes by October 31, 2018, Walmart will automatically activate the new return program with the default settings. Take the opportunity to customize your returns process by acting now.
On October 1st, 2018 Walmart introduced an enhanced Marketplace Returns Program. At the moment, this affects only Walmart US Marketplace sellers (not Walmart Canada or Walmart DSV). Below we have summarized the changes to provide you with a quick overview.
---
How can you process returns and refunds?
Returns and refunds can be processed either through the Walmart Seller Center or through GeekSeller via the Returns section.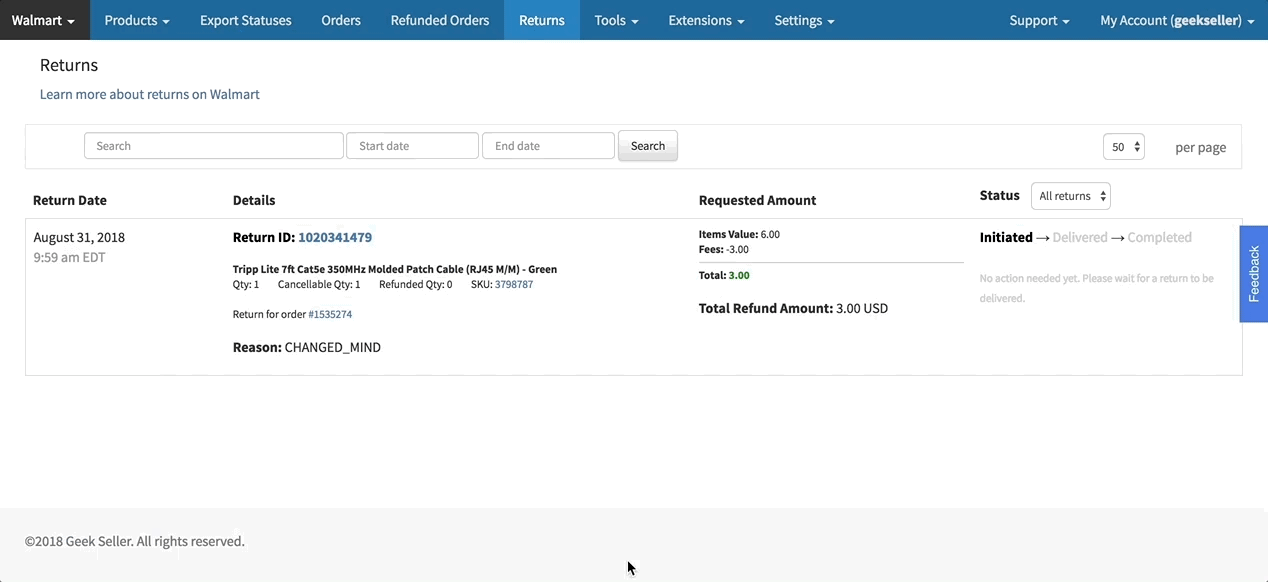 ---
Will you be notified about new inquiries?
GeekSeller checks for new returns and status updates for existing returns several times per hour. We notify sellers of these changes via email; This option can be activated in the Options section in GeekSeller.
---
What is the life cycle of a refund?
Refunds have one of the following statuses:
Initiated – the buyer started the return process

Delivered – the product was delivered to your return center; you can inspect the returned items and determine how much to refund the buyer

Completed
---
Why is Walmart changing the refunds and returns process?
It used to be that buyers had different refunds/returns process to go through depending on whether they purchased products from Walmart or from a 3rd party seller. Thanks to the new tools and processes, customers will have the same frictionless experience regardless of who sold the product.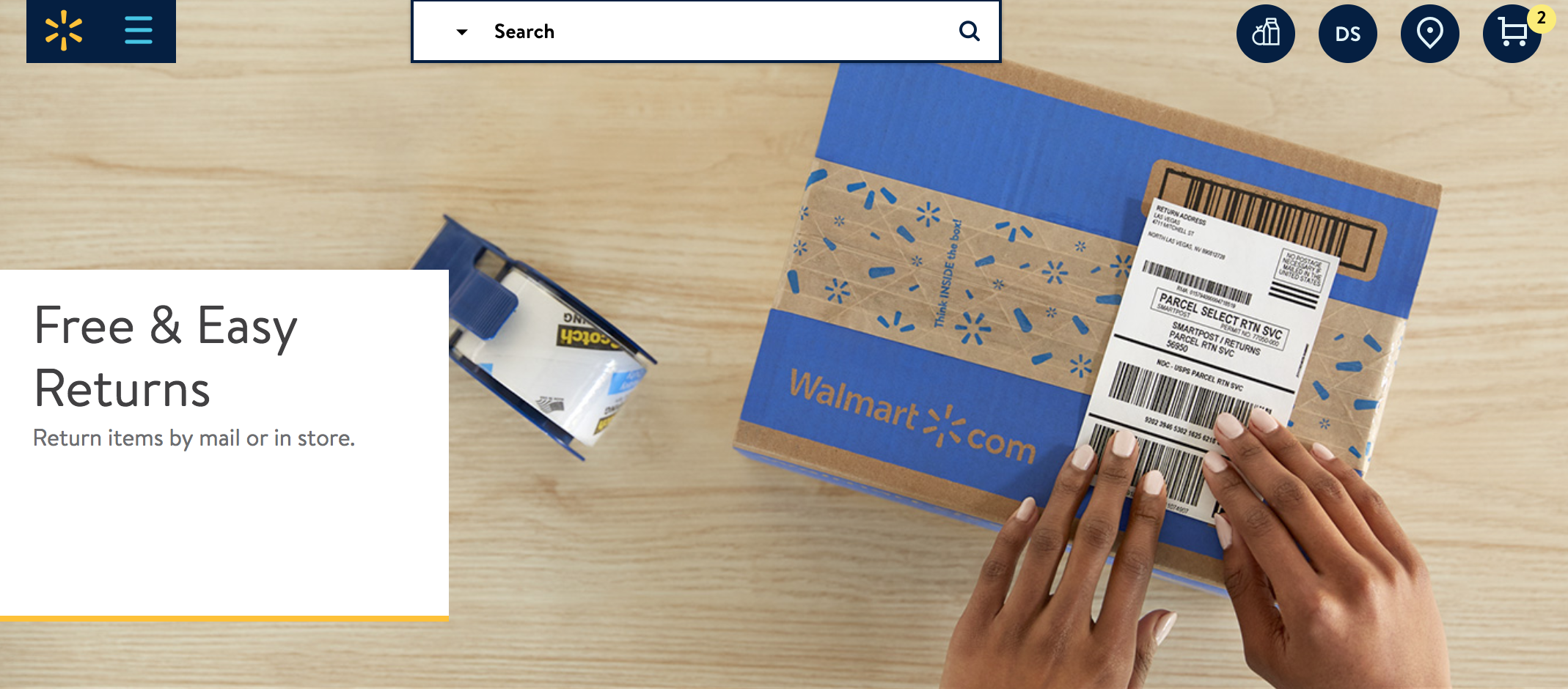 Walmart promotes an easy way to return products
---
What does Walmart expect from 3rd party sellers?
For details, please see the Walmart's Marketplace Returns Policy KB article. See our quick summary below:
Return Window: 30 days

You are required to configure at least one return center for all orders

You must cover the return shipping cost if you were at fault in any way (damaged, duplicated, inadequate quality, incorrect item, missing parts, not as described, defective)

It is up to you to decide if they want to cover shipping fee if the buyer simply changed their mind about the purchase

You can also dispute any reason presented by the buyer by providing adequate evidence via the Seller Center.
Walmart will review your request and determine what action to take while also monitoring seller performance to prevent excessive appeals.

If a refund is no-fault (or the buyer changed their mind), sellers have the ability to set a Restocking Fee (up to 20% of the item price).
---
Who Provides the Return Label?
Buyers can print labels from their Walmart accounts. You will not need to send labels directly to buyers, except in special cases.
---
Keep It
You can choose to issue a refund without having the buyer return the item. "Keep It" rules can be set at a particular price threshold for every product category. The customer will be told to keep items that fall into the configured price range when initiating a return via Walmart.com or Walmart Customer care, and a refund will still be issued.
---
Dispute Process
You may file a dispute by opening a case with Partner Support and providing adequate evidence. Walmart will review these requests and determine the appropriate action.
---
For more information visit: