Jet.com was the first marketplace that GeekSeller integrated with. Seeing it being shut down closes a very important chapter for our company, and brings with it a time of reflection.
---
A little bit of the GeekSeller and Jet.com story
Marc Lore, along with Mike Hanrahan and Nate Faust, co-founded and launched Jet.com in July 2015 with the ambition to redefine e-commerce– raising $820 million in order to pursue that ambition.
GeekSeller founders were still running a New York City-based web design company in 2015 –called Royal Deer Design. A few of Jet.com's clients expressed the need for a Jet integration and true to form we jumped at the opportunity to be ahead of the curve. The solution we developed for Jet.com quickly evolved into an independent company now known as GeekSeller.
Thanks to our focus on customer support and building a great product, the word about GeekSeller spread, and we were invited to become one of Jet's first official integration partners.
In the Fall of 2016, Jet became a subsidiary of Walmart. Jet technology has been slowly incorporated into Walmart.com– all while Jet.com was still operating as a separate brand– but its performance started declining, while Walmart's marketplace was gaining a lot of traction. Today, Walmart is one of the fastest-growing e-commerce marketplaces, and on May 19, 2020, Walmart announced that it was shutting down Jet.com.
---
The king is dead, long live the king!
Walmart.com would not be in its current position without acquiring Jet.com. Jet.com was a very strategic and well-planned purchase, and its incorporation into the Walmart.com infostructure allowed Walmart to establish a strong position in the e-commerce market. The Jet.com purchase gave Walmart a great team, amazing e-commerce technology, and a huge amount of sellers and products already on the platform. Seeing Jet.com being shut down is very sad for us to see, but this is another great move by Walmart, indicating that they maintain a focus on expanding Walmart.com and that the technology and expertise that powered Jet.com are now fully implemented into Walmart.com.
We are looking forward to working with Walmart and supporting their contribution to the e-commerce world!
---
GeekSeller in early 2016 – we were all about Jet.com
---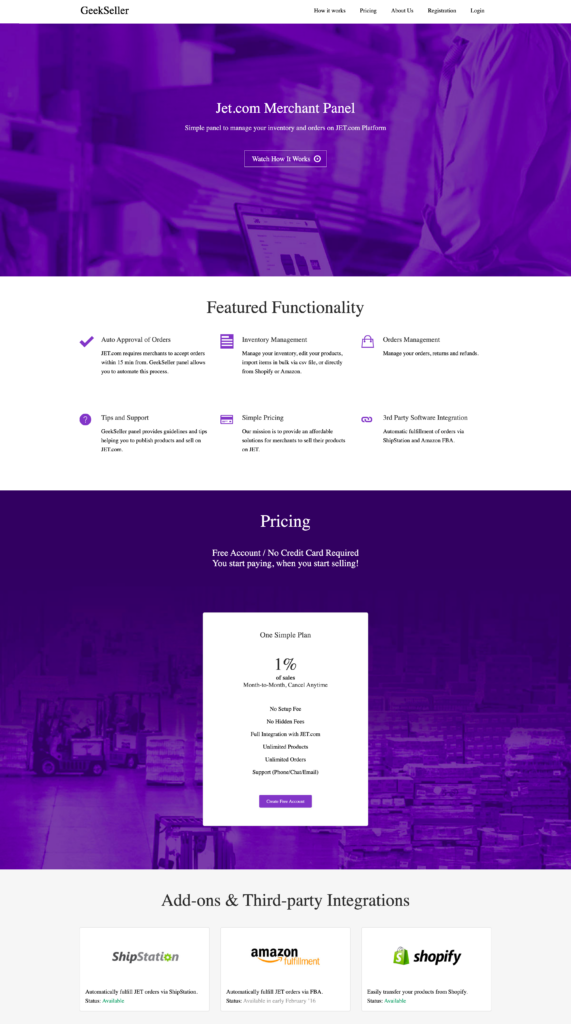 ---
Jet.com in 2015
---