Recently Walmart put a lot of effort into improving the Analytics section of the Seller Center. They have introduced the Growth Opportunities dashboard with many helpful tools to track the performance and quality of products. Unpublished Items is one of the sections that can help you identify the issues of removed products and republish them.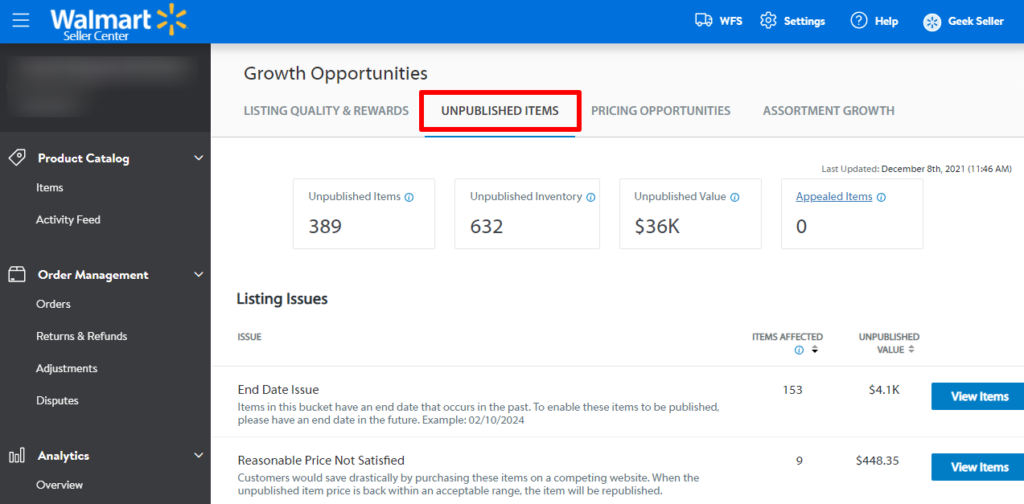 You can access this section through Analytics > Growth Opportunities > Unpublished Items. You may ask why this dashboard is unique and better than the regular Unpublished Products subtab on the Items section. The difference is in the additional features it has to offer.
In the new dashboard, you do not only see the number of unpublished items but also the estimative monetary value of these products; You can easily calculate how much you are losing due to the removal of these items from the marketplace.
It also provides information about the unpublished reason and allows you to edit affected items one by one or in bulk. The Trust & Safety section list all the products that violate Walmart policies. It is a really helpful feature as previously, it was hard to identify the products unpublished due to this specific issue.

Walmart encourages sellers to review the Unpublished section regularly to address all the issues immediately – especially in the busy holiday season. Checking this dashboard every once in a while may save you future efforts of communication with the Walmart support team.
If you would like to use this section but are not sure how to do this, here is a complete Walmart walkthrough recording. All of the issues in the Walmart Unpublished Items tab can be also addressed easily through our system. If you are a GeekSeller user, you can contact us and ask for a review of your account and assistance in the optimization of your products.