Generate tracking and print labels with a few clicks. Manage orders, inventory, and products easily.
Powered by GeekSeller, an official Walmart Partner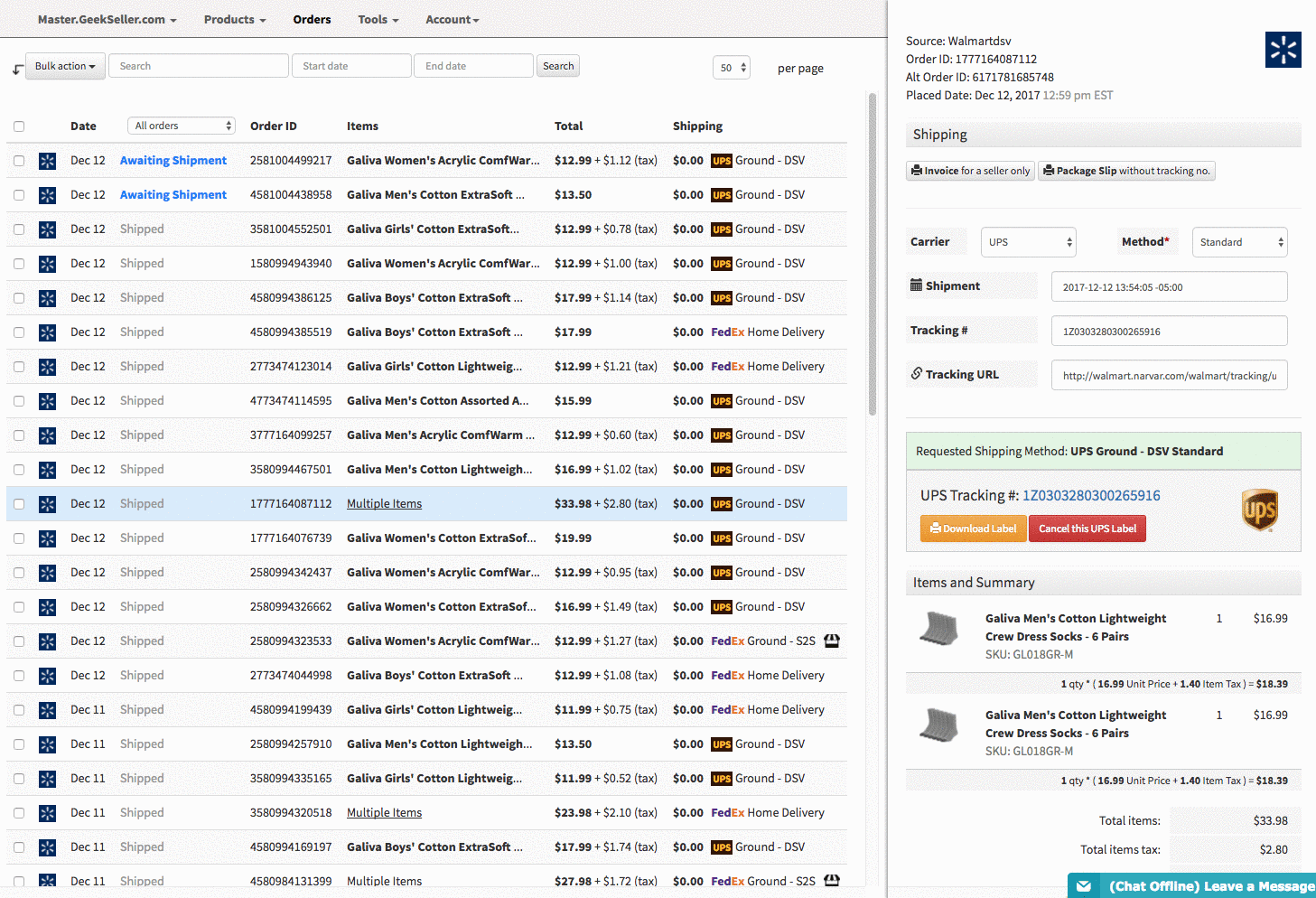 For 1% of sales + $99/mo, you will receive access to the administrative panel for Walmart DSV, as well as the Walmart 3P program for the US, Canada, and soon Mexico markets. This price also includes access to the UPS and FedEx extensions.
Our goal is to provide an affordable premium multichannel e-commerce platform with no hidden fees, no long-term contracts, and no upfront payments.
We charge a percentage of your sales, but our system will automatically ensure that you do not pay over $1,000 per month for your GeekSeller account (includes all marketplace and extension fees).
Unlimited products and orders. You can upload as many products as you need and process as many orders as you get. Our sellers have no limits.
You can use GeekSeller for only select services if you like (such as only for Walmart DSV). If you do business on other marketplaces, however, we can provide integrations with any of the following platforms:
GeekSeller Walmart DSV Integration Panel Features
Generate UPS and FedEx Labels within the GeekSeller Interface or via ShipStation
Inventory Synchronization with other Marketplaces
Ship to Store Label Creation
Automated Order Acknowledgement and New Order Email Notifications
Print Invoices and Packing Slips
Questions? Meet Our Support Team!
All of our support representatives are well-trained e-commerce experts. GeekSeller is an official Walmart, Jet, ShipStation, ShipWorks and ShippingEasy. We hold ourselves to the highest standards of support as we assist sellers with data preparation, onboarding, and ongoing support and advice.






There are several benefits to being a Walmart Drop Ship Vendor in comparison to being a 3P Seller:
Sold by Walmart
As a DSV seller, your products are listed on Walmart.com as "Sold by Walmart," which helps your product's credibility.
Free Shipping
Your products are eligible for Free Shipping and (even better!) Walmart covers all shipping charges.
Ship to Store
Your products are eligible for "Ship to Store," a popular option in which buyers can pick up their products from their local Walmart.
Buy Box
If another 3P merchant is selling the same product, as a DSV seller your product takes priority and is more likely to get the Buy Box. This increases conversion and puts you in a winning position against 3P sellers.
Credibility
DSV sellers have more credibility to request Walmart to update product page information, which is often a challenge. As a multivendor marketplace, Walmart.com gives sellers limited authority to request changes.
Elite
To become a DSV seller, your company needs to pass various verification steps and have a proven track record of both great customer service and quality products. While 3P sellers are also required to keep high standards, it can be even more demanding for DSV merchants.
Already approved by Walmart as a DSV seller?
---
The GeekSeller team will be happy to assist you with onboarding and account optimization. We also offer multichannel solutions to integrate with your Walmart account.
GeekSeller does not charge any upfront fees or require any long-term commitments. Fees apply only when you begin generating sales.
Create Free Account / No Credit Card Required
Cancel Anytime / No Setup Fee
Not approved by Walmart to DSV program yet?
---
If you sell quality products and can provide competitive pricing as well as reliable shipping, Walmart is looking for sellers like you. In order to be eligible, you will need to meet certain requirements.

Contact us at support@geekseller.com for assistance in preparing your Walmart DSV Program application.
"This is yet another marketplace for merchants to sell on, and as a seller you want to diversify your distribution channel. Walmart.com attracts millions of buyers; it is currently one of the largest and fastest-growing e-commerce platforms. You do want to be on there, especially since it doesn't cost you anything to start.""

— Daniel Sodkiewicz, GeekSeller Co-Founder