Let's take a dive into the Shopping Actions insights section of your Google Merchant Center and see how it can be used to understand price competitiveness on Shopping Actions and how you can win the buy-box.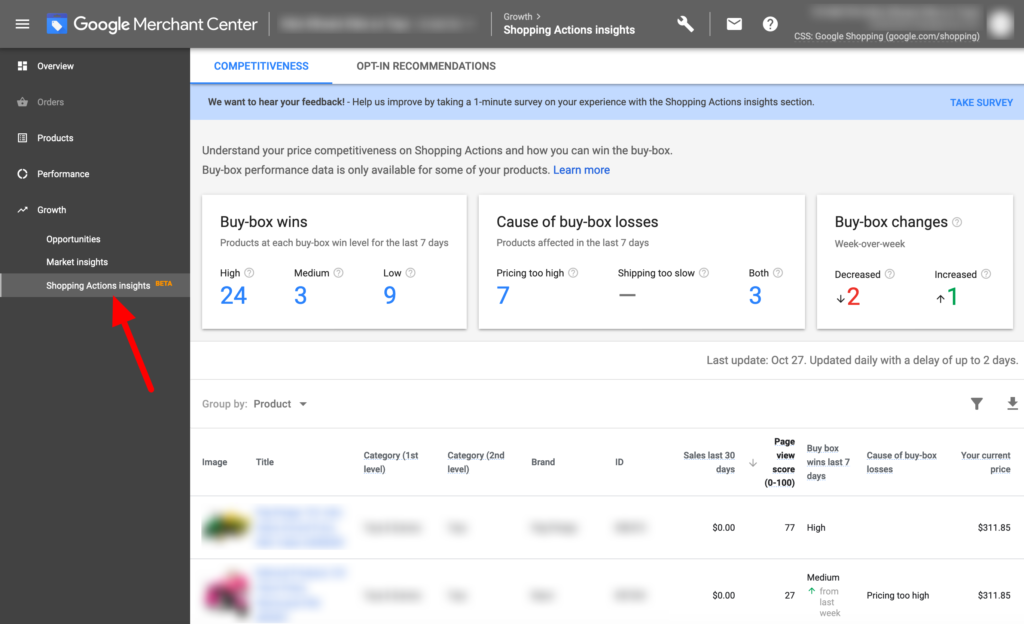 The competitiveness section displays a table with important information that can help you improve the performance of your products.
Causes of buy-box losses – this column explains why your products are losing the buy-box, listing the main cause of buy-box losses over the last 7 days. The most common causes are: Shipping too slow and Pricing too high (including shipping cost).
Buy-box wins last 7 days – this column shows the buy-box performance for your products over the last 7 days (products that were either out-of-stock or ineligible for Google Express sales are excluded). The three statuses shown indicate the percentage of time over the last 7 days that your product was winning the buy-box: High (Your product appeared in the buy-box 66-100% of the time), Medium (33-66%) and Low (0-33%).
Page view score – is calculated on a scale ranging from 0 to 100. It ranks a product's page views on Google Express relative to the most popular product in your inventory. A score of 100 represents your highest performing product.
Price difference – this column shows the percentage difference between your price and the lowest competing price. If this value is positive, you charge more and may be losing the buy-box. A negative value means your price is below the lowest competing price; in some cases you may be able to increase your price without losing the buy-box.
---
Sellers who are advertising on Google with paid advertising should also check the tab Opt-in recommendations.

The opt-in recommendations section shows products that you advertise on Shopping ads ordered by their potential to perform well on Google Shopping Actions. If you do not offer all your listings on Shopping Actions yet, this is a great place to review which products you should consider to sell on the marketplace.
---
You can also check our blog post on Google retailer standards for more information about this marketplace.