I talk every day with business owners. Many of these are very successful merchants on Amazon.com. All of them have the same question: "How will I do on JET?" and "Can I expect the same success on JET?"
JET is growing very fast, and as a startup, it is still in its early stages. With regards to selling, you should keep your expectations low at first. Among our merchants, we have sellers that receive hundreds of orders each day, while others that don't experience this kind of success. This can be confounding, because some are doing well on Amazon, but only getting a few orders on JET. There is a helpful post that shares what products do well on JET. The categories include: household products, health and beauty, and electronics. On average, our merchants sell at least 10 items per day.
A Few Sales are Better than No Sales
At the end of 2015, JET raised $350 million. In the Fall of 2015, it was valued at $1.3 billion, which is quite impressive.
It is important to remember that the original business plan of JET was to offer a $50 membership, and to offer great prices to members, and earning zero profits on sales. This business model simply did not work. Customers did not like this idea. Not long after launch, JET removed their initial membership fee, and decided to focus on offering great prices with a proprietary algorithm. This algorithm rewards customers for buying in bulk, with lower prices on shipping if the customer is located close to the warehouse.
This is a great time to get on JET and start selling while there not much competition and JET is growing extremely fast. We have seen a big jump in sales every month. JET shows all the signs of growth, and they actively hire.

JET expects their sales to top $1 billion just one year after launch.

Amazon's customer base growth was 12.6% , while eBay had 5.2% customer growth. In less than a year, Jet.com had 3.6 million customers shopping on their website — that is 278 times faster than Amazon's growth rate! Keep in mind, we are referring to a general trend of growth, proving that JET is one of the fastest growing e-commerce startup ever.

JET is making acquisitions, such as a recent 14-year-old furniture company for $90 million. The reason for this purchase is explained as "buying revenue" – Hayneedle.com is doing $350 million in online sales yearly.
Who shops on Jet.com?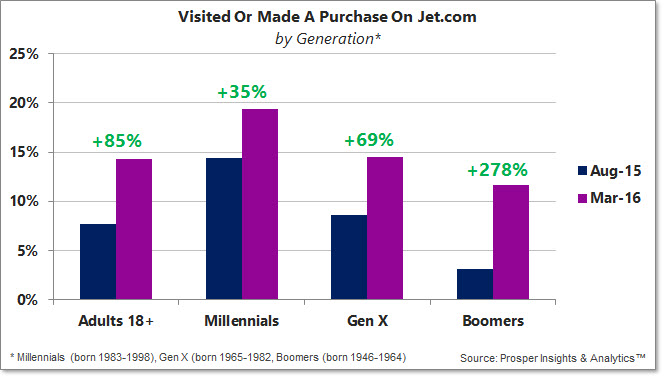 Who shops on Amazon?
---
Sources: