On Aug 14th, GeekSeller and Google hosted a webinar on getting approved to sell on Google's online marketplace.
Below you can find a recording of the webinar, as well as the most important links, information, and answers to questions asked during the webinar.
When you are ready, please
see this guide
on how to apply to sell on Google Shopping Actions.
---
Is there a monthly fee for selling through GeekSeller and Google Shopping Actions?
Google does not charge sellers a monthly fee. Google charges a percentage on sales based on product categories. These charges only apply when an order is completed.
There is no additional charge for adding Google Shopping Actions to your GeekSeller account.
---
Is Google Shopping Actions the same as Google Express?
No. Google Express was one destination that looked like a marketplace, which is still there but is being merged into the overall Google Shopping experience.
Google Shopping Actions broadens your reach to places like YouTube, Google searches, and more.
---
Does Google Shopping Actions redirect buyers to the seller's website?
No, that functionality works for Google Ads. Google Shopping Actions does not redirect. Purchases are completed directly on the Google Shopping Actions marketplace.
---
How do returns work on Google Shopping Actions?
Buyers can initiate returns from the Google Shopping Actions platform. If the return is consistent with the seller's return policy, then the return will be initiated, the data will be sent by Google to GeekSeller, and the product will be returned to the seller.
---
Are sellers responsible for the support of Google Shopping Actions buyers?
Google takes on all buyer support. If necessary, Google will liaise behind the scenes between the seller and the buyer. This is to create a consistent experience for the buyer and to create a smooth process for the seller.
---
How does Google prioritize or rank listings?
Many factors are considered by Google's algorithms to determine which product is shown to whom and when. Factors include competitive price and speed/availability of delivery.
---
Are any brands restricted from being sold through Google Shopping Actions?
There are no brand restrictions when you sell through Google Shopping Actions, but there are some category restrictions.
---
How long does it usually take for merchants to be approved by Google?
It generally takes a couple of days. In some cases, it may take longer if Google needs more data from the seller or to verify the information provided.
---
Does GeekSeller integrate Google Shopping Actions with Deliverr?
Yes. Connecting Google Shopping Actions with Deliverr will not add any additional GeekSeller charges.
---
Can I sell products on Google that have already been listed by other seller?
Yes. Google Shopping Actions allows multiple sellers per item. Google selects one seller as the buy-box winner: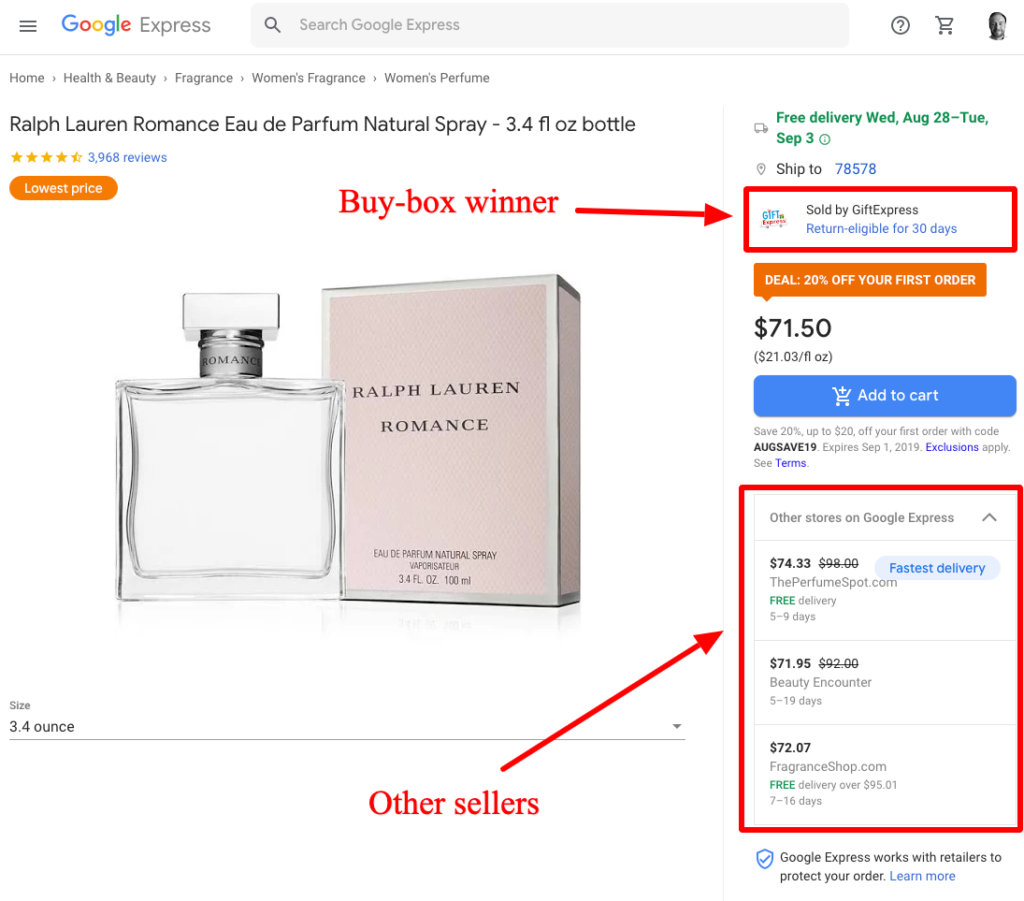 ---
What if a seller has been onboarded through GeekSeller, but Google hasn't approved their products yet?
This is something our support team will need to address by reviewing the details of your account. Please reach out to us at Support@GeekSeller.com if you're experiencing this.
---
If you have products on other platforms, can you move them to Google using GeekSeller?
You can import product data from other platforms to GeekSeller. Within GeekSeller you can move your data from one GeekSeller panel to another.
---