Shopify Flow is a workflow automation tool that enables businesses to automate their Shopify store's order fulfillment process. It allows sellers to connect their Shopify stores to their warehouses and suppliers and automatically fulfill orders based on certain conditions that are set by the user. This can help businesses save time and money on their order fulfillment process and improve their customer service.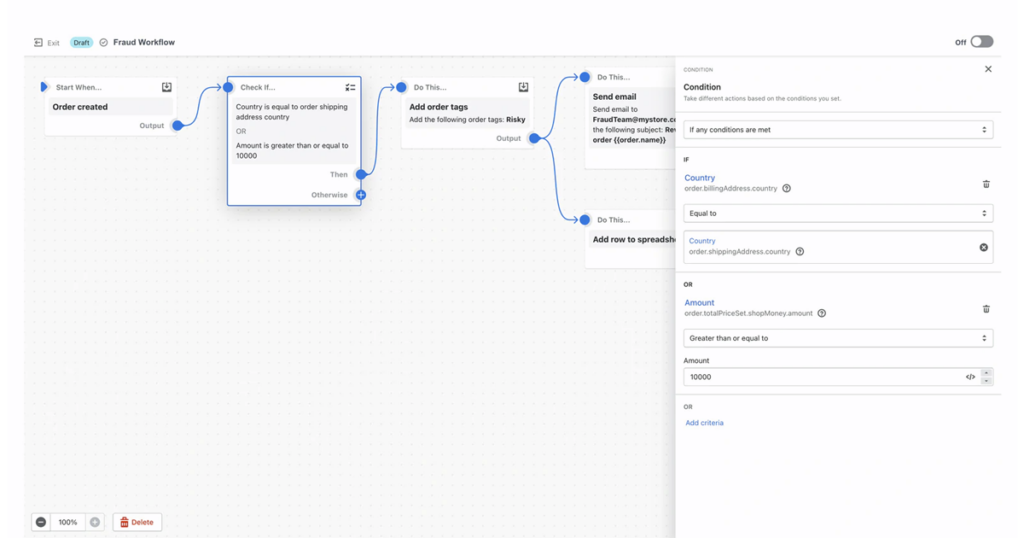 Flow is the solution to time-consuming, repetitive tasks. The app is available from the Shopify admin panel and does not require advanced programming skills. With the simple creator, you can easily organize automatic rules that will be triggered in your store. After determining the trigger, condition, and final action, you can sit back and observe the automation at work.
If you're already a Shopify, Advanced, or Shopify Plus plan user, roll out Flow and see how much time you can save. Also, keep in mind that you can integrate Shopify Flow with other tools to further help you create the necessary scenarios.
Here are a few examples of situations in which Shopify flow can come handy to grow your business:
Automatically send a shipping confirmation email to customers when their order is marked as shipped.
Add a customer to a VIP group when they spend over a certain amount in your store.
Create a task for a customer service agent whenever a customer cancels an order.
Automatically give a discount to customers who abandon their shopping cart.
Automatically cancel orders from a specific email address or IP.
Automatically control orders based on advanced conditions (e.g., discount codes).
If you want to get your whole business to the next level and automate multiple selling channels, check our article about GeekSeller automation and reach out to our support team for further information.