Mercado Libre is the number one marketplace in Latin America, and it is now welcoming international sellers. With its presence in 18 countries and more than 30 million unique buyers, it is a great way to expand and exponentially grow your business.
If this is your first time hearing about Mercado Libre and do not have an account yet, you can find more information and apply here. This article will focus mainly on the product creation process, and providing quality data on the Mercado Libre marketplace.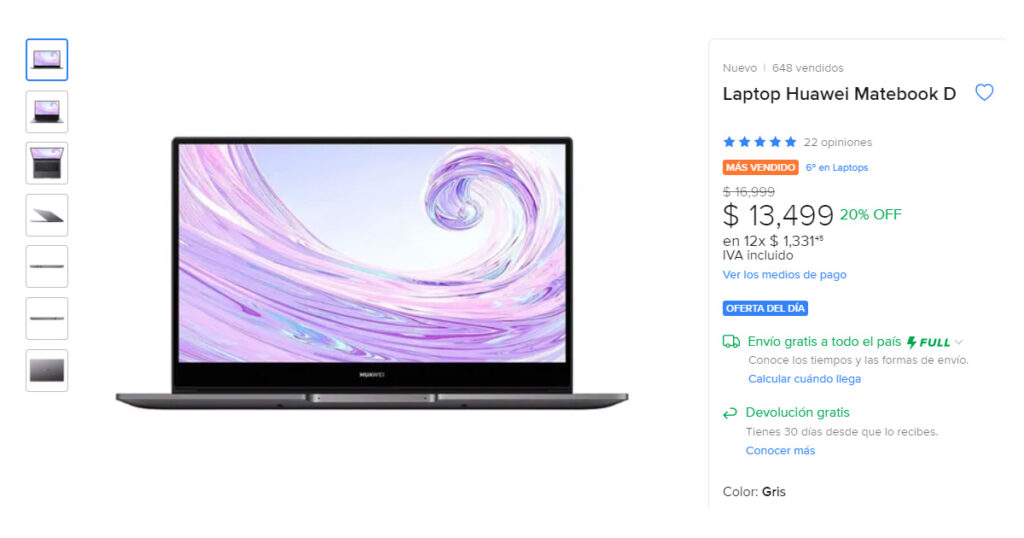 How to create products on Mercado Libre
There are two ways to start adding your listings to the marketplace. You can either add it through the upper bar right after you logged in, or go to the Listing Management tab and click Add Listings:


The next step is to select categories of your new listings. Products can only be added through an Excel spreadsheet, and there is a separate sheet that you can download for each category. When you select categories, they will appear on the sidebar and will be visible in the Excel sheet in separate tabs. You can select up to 40 categories at once, but it may be easier for you to break it down into smaller files if you have many products in different categories.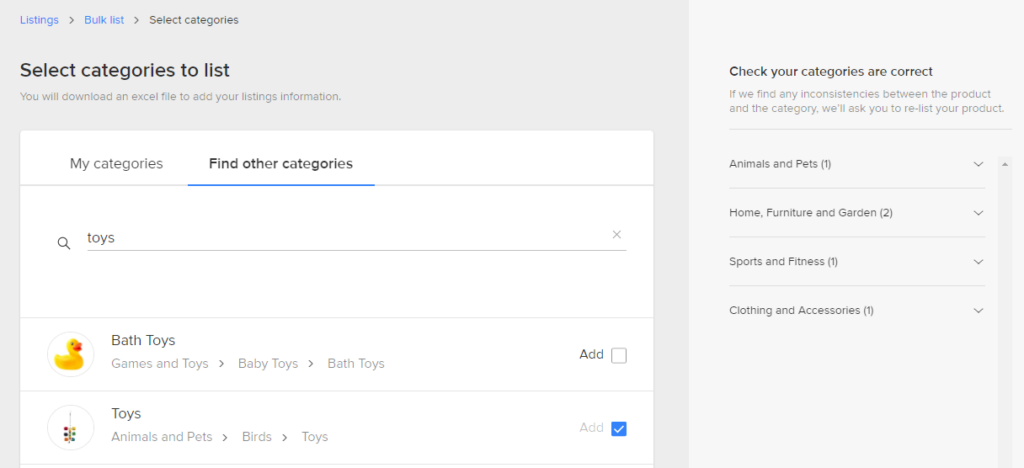 After you selected the categories, you can download a file and start adding data of your products.
Mercado Libre listing quality
First and foremost, it is best to prepare your product data as well as you can for the first time. However, you can also make adjustments later if necessary. There are a few core principles that determine Mercado Libre listing quality. These principles – if applied correctly – may drastically increase the conversion of your listing. For an in-depth analysis of each principle, please see this link; below is an abbreviated version with the most important information:
Create a clear title – It goes without saying, but it is also one of the most challenging parts as through the title, customers will find your product. The recommended format on Mercado Libre is Brand + Model + Product (e.g. Adidas Superstar Shoes). You can add extra details for essential features like Adidas Superstar Eco Leather Shoes.
Keep in mind that the title should not be too long (There are character limitations for some categories), concrete, and rather simple. It is crucial to create a good title at the beginning of the listing process because you will not be able to modify it once there are orders associated with a specific product.
---
Provide a good description – The description should be clear and consist of the attributes and information you could not include in the datasheet. The first sentences of the description should include the most relevant details. Make sure everything that is promised in the description matches what you sell. This will help you avoid the further flow of the customer questions.
As a side note, the title, descriptions, and attributes can be provided in English. Mercado Libre will automatically translate the data into Spanish or Portuguese.
---
Use quality photos – Using good photos of your product is the most powerful way to draw customer attention to it. It is proven that sellers who optimized the photos of their listing increased turnover by 15% to 30%. Make sure your photos are in focus, well lit, and at least 1200 x 1200 px in size. Your main image must have a white background; other images can show different angles or the product package. Keep in mind that photos should not have watermarks or text.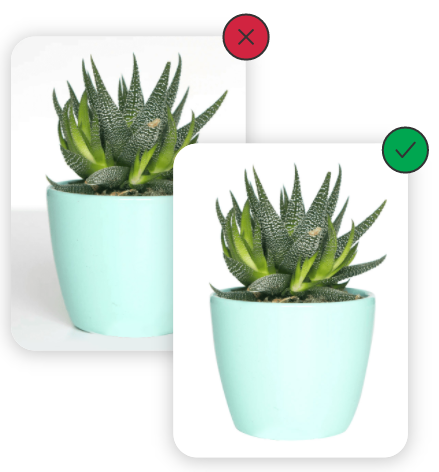 ---
Complete the product specifications sheet – In the sheet, you can include all of the technical specifications and attributes of your listing. It is essential to add as much data as possible. A complete and accurate product specifications sheet helps to better position you in searches and favors the exposure of your listing. You can find more instructions about datasheets here.
Improvement of already uploaded listings
Suppose you have missed some data on your specifications sheet, or would like to improve your listing but do not know how. Mercado Libre makes it easy for you. All of the new products on your account are scored with the built-in listing quality meter. This tool not only shows you how the listing is scored but also tells you exactly what you need to do to improve your product quality: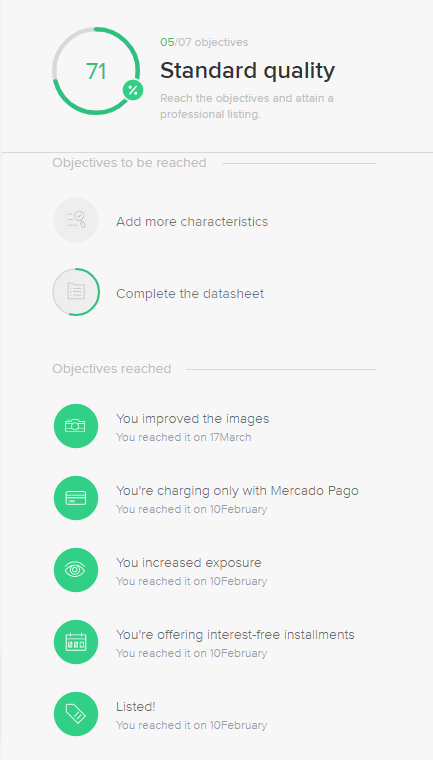 You can add the missing data directly on your Mercado Libre account without the need to export products to a file. It is a fast and easy way to make sure that your listings are in good shape. Needless to say that even small increases in listing quality convert to more visits on the listing page, so we advise that you use this tool.
Other ways to improve your listings
Once you have created a perfect listing, there is still a way to reach even more customers through Mercado Libre product ads. We have described this feature in detail here.
On the other hand, if you do not want to spend hours polishing your listing data, you can check if your products are eligible for Mercado Libre Catalog. In this program, Mercado Libre will take care of your listing data for selected products. Check this post for more information.
---
To sum it up, listing quality is one of the most crucial elements of a successful E-Commerce business. It is always worthwhile to learn how the marketplace scores the listing data. Time spent on such research almost always pays off in significant growth that your business need.