If we had to list the most common questions of our users on Walmart, the one about increasing the lead time would be in the top ten. Walmart policies and requirements related to fulfillment can be pretty demanding and might need some extra effort to keep up with, especially for smaller enterprises in busy seasons like Holidays, etc. Fortunately, there is still some flexibility and ways to increase the lead time on Walmart.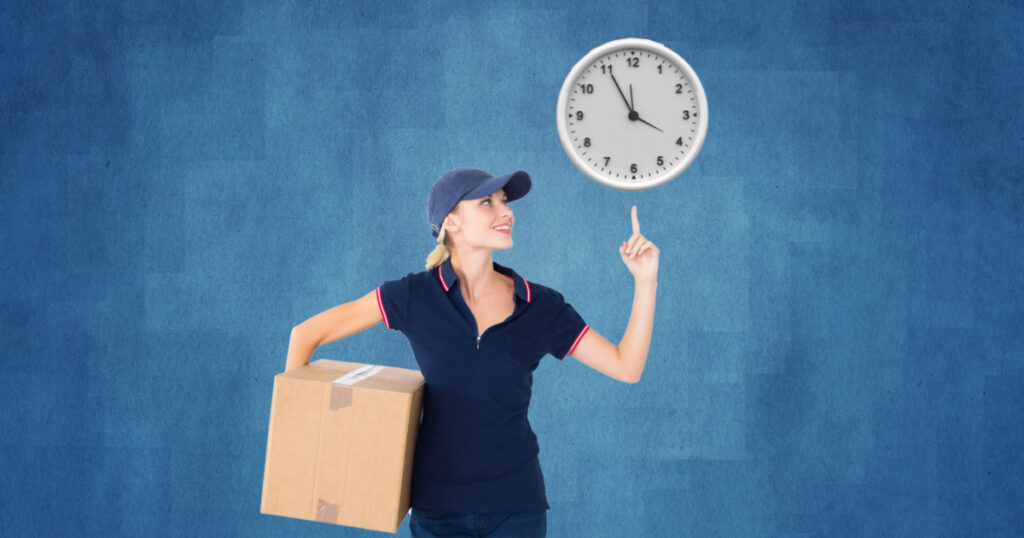 What is the lead time, and how is it calculated?
Before we dive into the methods of extending fulfillment time, let's explain what it is and what it consists of. In most basic terms, it is the time between the order placement and delivery. Of course, many variables determine the fulfillment time, but in principle, the Expected Delivery Date is the ultimate deadline to strive for if you do not want to harm your seller metrics. The Expected Delivery Date consists of three critical components described in detail on this Walmart infographic: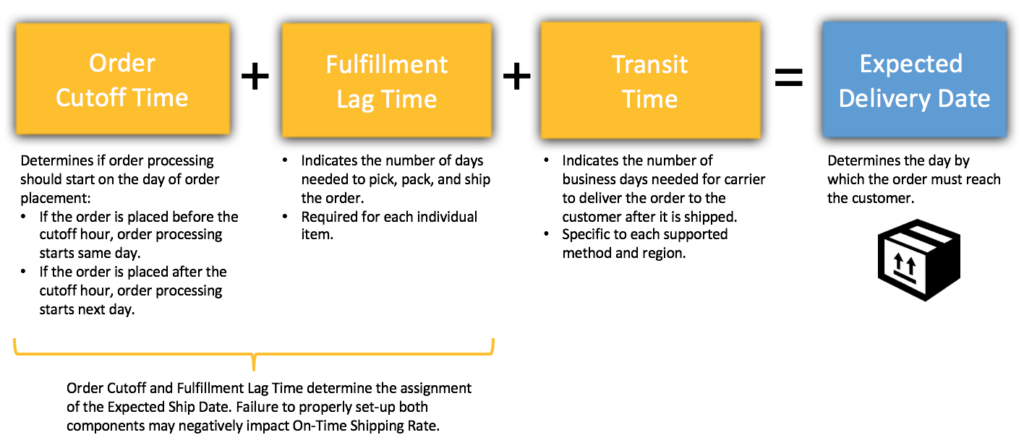 As a seller, you can (to some degree) impact each of these components. So let's analyze and see how to leverage them to extend the Expected Delivery Date.
Order Cutoff Time
You can find order cutoff time settings on Walmart Seller Center > Settings > Shipping Info tab. This is the first place you should visit if you have trouble fulfilling your orders in time. For example, you can set up the cutoff time to the early hours of your daily operation and not bother with fulfilling the orders placed during your working hours until the next day. During setup, you can specify the separate cutoff time for seven days of the week. Please remember to select the correct timezone of your fulfillment center. If you have more than one, you can specify its timezone on the fulfillment center settings (Settings > Seller Fulfillment > Fulfillment Centers).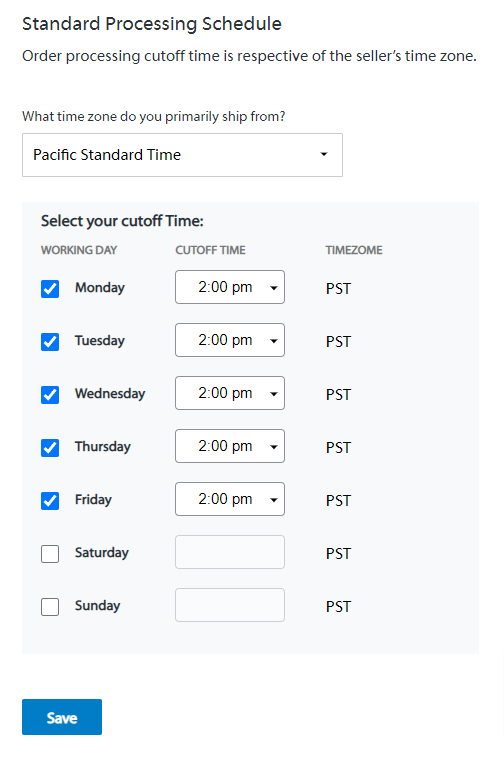 Fulfillment Lag Time
It is a value you can (but do not have to) add to your products to indicate the number of days needed to prepare the item for shipping. By default, it is set to 0 for all new products, and all sellers can apply one day to any product. If you want to assign more than one, you need Walmart's permission. You can get it only via a support case with a lag time exemption request. It is a relatively easy way to extend the Expected Delivery Date and time needed to ship the package. On Walmart Seller Center, you can update lag time only through the spec sheet. On GeekSeller, on the other hand, you can update it for each product individually or in bulk through the CSV or XLS file.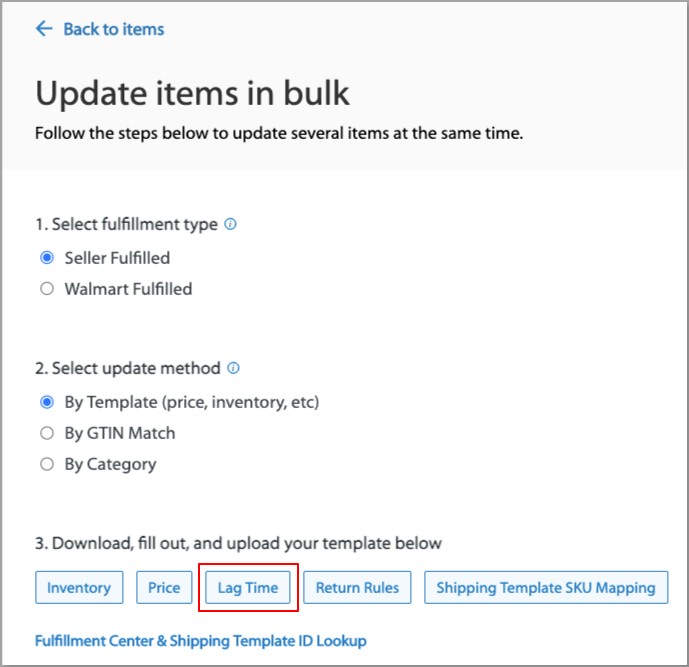 Please remember that if you offer standard shipping set to three business days or expedited shipping, your fulfillment lag time will not be applied to orders with these two shipping methods selected.
Both order cutoff time and fulfillment lag time determine the Expected Ship Date (ESD) assigned to each order. You need to confirm the shipping and provide valid tracking to Walmart before the ESD, or the order will be considered as shipped late. Therefore it is crucial to set up these two parameters wisely to avoid problems with late shipping and a negative impact on your seller performance.
Transit Time
It is expressed in days based on the settings of the shipping methods you offer. Includes only business days, so if you marked weekends off on your processing schedule, they would be excluded from the calculation. Current shipping methods and transit time for each can be found in the table below: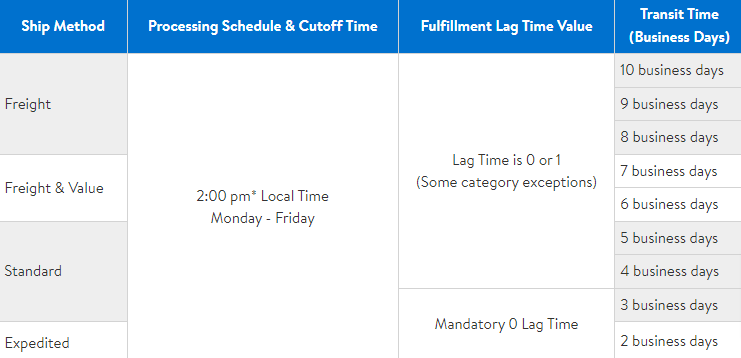 Transit time can be changed for Freight, Value, and Standard shipping on the shipping templates settings. You can check this video if you do not know how to create the templates.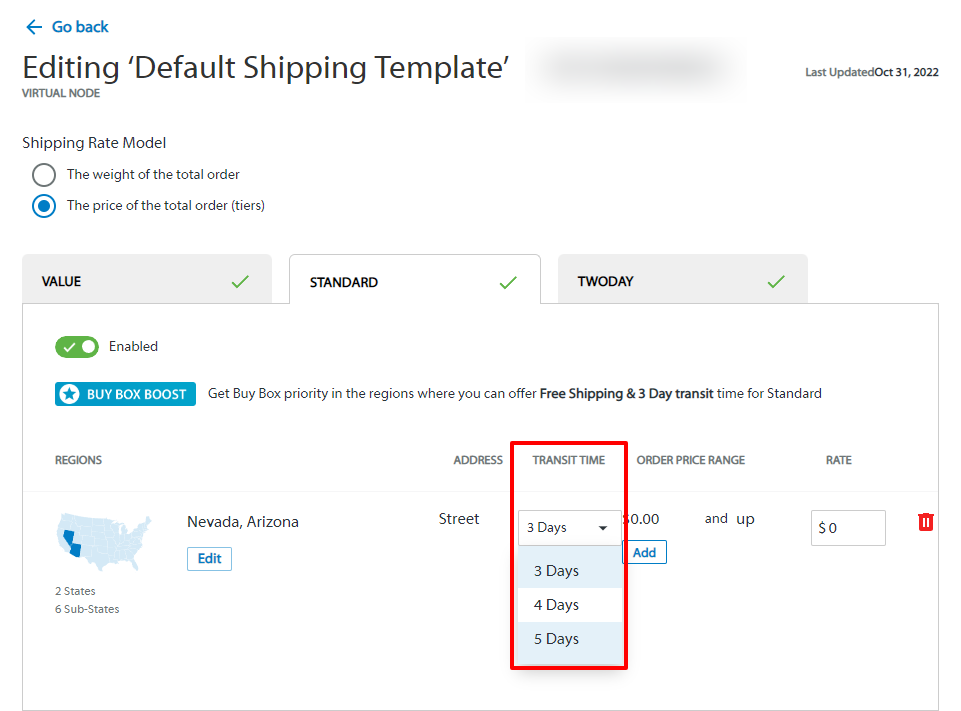 Example
So to consolidate this information, let's consider one situation as a quick example.
Let's say that the customer:
Placed an order Wednesday, Dec 1st at 2:30 PM EST.
Selected Standard shipping.
Here are your settings:
Order Cutoff Time is set to 2:00 PM EST, so the order processing day will start on Thursday, Dec 2nd.
Your fulfillment lag time assigned to the ordered SKU is set to 1 day, so the Expected Ship Date (ESD) will be set to Friday, Dec 3rd.
Your Standard shipping transit time is set to 4 business days in the shipping template.
Given the above data, your Expected Delivery Date will be set to Thursday, Dec 9th. So here is how the infographic would look like in our example:

If the order is not completed five days after the Expected Delivery Date and the carrier has not reported any update in the last three days, Walmart can cancel such an order.
Summary
We hope this knowledge will help you understand the principles of lead time on Walmart and ways to extend it. As you can see, sellers have some degree of flexibility and can adjust it to their capabilities to avoid the negative impact of late fulfillment. You can find some more information about this subject in Walmart's guide. If you still need help extending your lead time on Walmart, feel free to contact us.