There are some very important things that you should know as a seller on Jet.com:
You don't know how many individual merchants you are against. On Jet.com, you don't actually know the other merchants that you are selling against, because Jet doesn't show the buyer the individual merchant that is actually selling the product. On top of that, Jet is a little bit like eBay, but in this case, merchants are competing for buyers. To succeed on this new marketplace, merchants needs to master principles of Jet Rules Engine.

Why is my product not listed on Jet.com yet? If you have submitted a product to Jet, and it is not yet listed, there are some reasons why this is. Sellers that submit over 1,000 items are given higher priority to those that list a few. If you are selling just a few items, be ready to wait a few weeks for your products to get approved. The Jet team manually reviews and creates each product page. However, if you are the first to provide a product on Jet, you could be given priority to a seller that is selling a product that is already on the site.

There are no reviews on Jet.com. Jet differs from Amazon.com in that they don't have public reviews of their products. Instead, the Jet team analyzes returns and complaints from customers to measure the seller's success rate, and this may also determine if you will continue to sell on Jet.com. With this in mind, it is important to strive to ship your products in a timely manner, and sell high-quality products without defects, that could result in complaints or returns.

Users do not know who they are purchasing from on Jet. Another way Jet.com differs from Amazon.com and Ebay is that the consumers do not know who exactly they are purchasing their products from. On Jet, products are sold somewhat anonymously, therefore giving the seller a mask in terms of identity. However, if you consistently are receiving complaints or returns, then it could affect your future of selling on Jet. Keep this in mind.

Jet does not provide a user-friendly panel. Jet updates their API frequently, and does not offer much functionality to the user (i.e. a user-friendly panel to import products and manage orders). This may sound crazy, but Jet actually expects sellers to do one of the following:

Build their own back-end (which requires months of work for a skilled developer, and monthly maintenance of the system because Jet updates and adjusts their API on a regular basis)

Use one of many very expensive third-party companies that offer integration with Jet (this includes fees, commission, and long-term commitments). This is why we have created GeekSeller – we offer a very affordable solution for merchants wanting to start selling on Jet right away.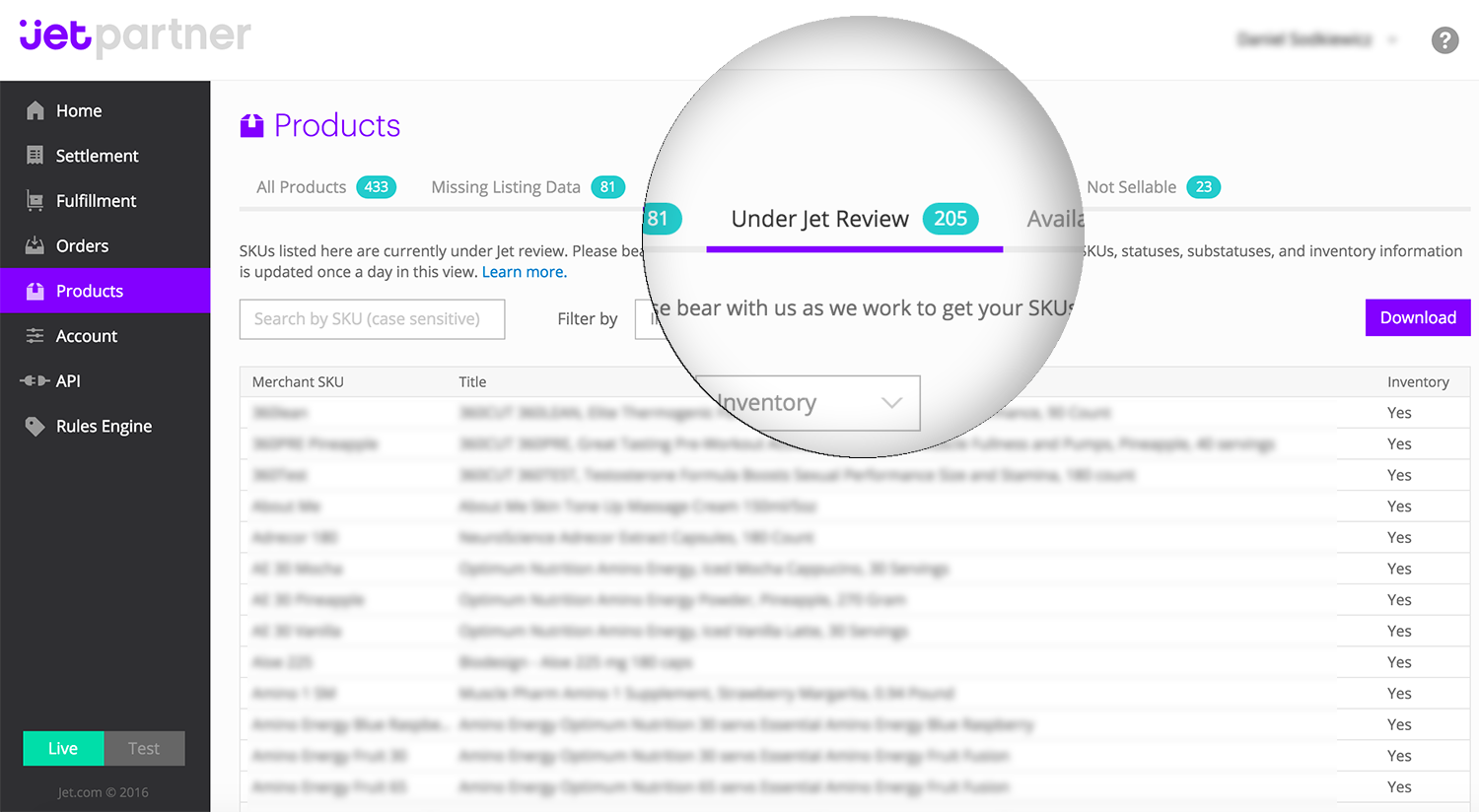 ---
Jet Partner Portal
As a seller you need to be aware of the following:
Your products are manually reviewed by the JET team, so your listings are not going to be published for sale right after you submit them. Actually, it could take from a few days to few weeks for the JET team to review and publish your products on this marketplace

Adding new products (and updating existing ones) does not happen spontaneously. The JET team always needs to review your revisions and new submissions – this can be a long and frustrating process

Users do not know who they are purchasing products from

There are no reviews from customers, and you are judged by a JET team based on speed of your delivery and amount of complaints and returns from customers

Pricing on JET is calculated dynamically based on customer's location and his/her basket.

You don't know how many merchants you are competing against, to make sure you are competitive, you need to master Jet Rules Engine.

JET charges about 15% fee on each sale, for more details, check https://partner.jet.com/terms

JET does not provide a panel to import your products or manage your orders. You need to have a developer to create this kind of panel for you, or find a ready-to-use solution, such as our service at GeekSeller.com

Jet is a fast growing startup, with incredible potential to be a solid competitor for Amazon. However, listing and selling on this marketplace can be frustrating (delays in approval process, buggy API, and strange Jet rules with unclear requirements and expectations). As a merchant you should get on Jet ASAP, but brace yourself in the meantime, because there are growing pains to overcome!