A century after revolutionizing the way customers purchased products, by introducing the Sears catalog, the company entered the e-commerce space. Today Sears is ranked as the 22nd fastest-growing online furniture & appliance marketplaces. The Sears Marketplace is an excellent opportunity for sellers to diversify their selling channels and access millions of Sears and Kmart customers.
Why Sears?
You might have noticed that I mentioned Kmart in the sentence above; that was not a typo, and it is one of the main reasons why you should consider selling on Sears. With a Sears Marketplace account, any product that you list will be automatically added to Kmart – hassle-free! This will give you an additional customer base to offer your products.
It is also a great place to sell if you value simplicity in products and order management. Sears offers an easy to manage, user-friendly interface with the addition of comprehensive analytics and reports that can help you develop your business. With a straightforward fee structure, no long-term commitment contracts, and the ability to cancel anytime, it is undoubtedly worth considering a direction to expand.
Sears Marketplace also has less strict application requirements than other marketplaces, so if you have been rejected before, you should definitely give it a go.
Advertise with Sears
Advertising is the best way to attract a lot of traffic to your listings, but most marketplaces make it hard or even impossible to advertise for 3rd party sellers. Sears is not one of these marketplaces. Advertise with Sears is a program that will give your brand a 360-degree, multi-channel experience and let you tell your brand's unique story. With 2.4 billion page views a year and around 10 million unique visitors a month Sears.com brings many potential customer impressions to the table.
There are three options to advertise on Sears Marketplace, each offering unique features and customer experience. You can either use them separately or combine them for better results:
Display Ads – These are ads that show up on a specific category such as Appliances, Baby, Tools, etc. With display ads, you can also make a big impact on Sears homepage which attracts even 1 million page views per day.
Featured product Ads – This option gives extra attention to a particular product. Your ads will be displayed in highly visible locations based on shopper search and navigation. This feature works in the pay-per-click model.
Brand showcases – It is the most customizable feature tailored precisely for your brand. You can highlight categories, product families, promotions, and individual products to educate customers on your brand. With email campaigns available in this option, you can drive some additional traffic to your site.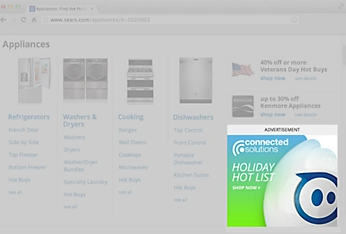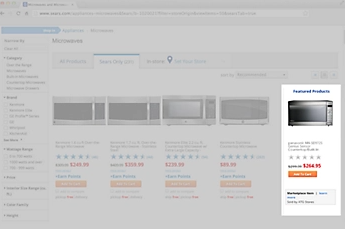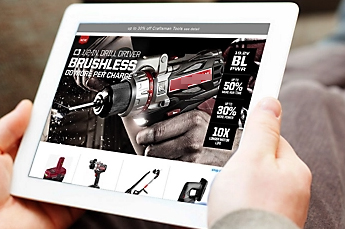 See this link for more details on Advertise with Sears and contact information.
Return and Refund Policy
The main return policy of Sears Marketplace is to provide service as good as or better than what is being offered by Sold by Sears merchandise. You can set up your own return policy, but you must remember that it has to be in accordance with the rule above. For example: If you sell shoes and Sears policy is a 30-day return policy, you must allow a customer 30 days or more to return the shoes.
Sellers are also obliged to accept returns without any restocking fee or partial refund if the item is delivered damaged, defective, or is different from what the customer ordered. For all returns, the seller must provide a return address within the United States or allow the customer to dispose of the item if he agrees to do so.
Restocking fees of up to 15% may be charged for some categories and in certain situations. For details, please visit Sears return policy page.
Costs and Categories
Participation in the Sears Marketplace program costs $39.99/mo for the unlimited amount of orders and grants you access to the seller support resources. Additionally, sellers are charged with a commission fee based on the product category. Below you can see a breakdown of categories available on Sears Marketplace and commission fees associated with them:
| | |
| --- | --- |
| Categories | Commission Rate |
| Appliances | 15% |
| Automotive | 12% |
| Baby | 15% |
| Beauty | 15% |
| Clothing | 15% |
| Consumables | 9% |
| Consumer Electronics | 7% Hardware, 8% everything else |
| Fitness & Sports | 15% |
| Gaming Consoles | 8% |
| Health & Wellness | 15% |
| Home | 15% |
| Jewelry | 20% |
| Lawn & Garden | 15% |
| Office Supplies | 15% |
| Outdoor Living | 15% |
| Seasonal | 17% |
| Shoes | 15% |
| Tools | 15% |
| Toys & Games | 15% |
| Watches | 15% |
| Workwear & Uniforms | 15% |
How to register on Sears' Marketplace?
If you are ready to expand your business and gain some new exposure, you can start the application process through this link. All you need to apply is an Amazon, Walmart, or eBay account with some ratings and a US-based business address and warehouse. Once qualified, potential sellers must accept the Sears Marketplace Agreement. The seller that accepts the terms of the Sears Agreement during the registration process will be considered as the account owner for Seller's Sears Marketplace account.
In case of any further questions, you can contact the Sears support team here.