Update, October 2019
GeekSeller and Walmart Canada hosted a webinar on getting approved to sell on Walmart.CA. Watch a recording of the webinar and check important links and answers to questions asked by sellers regarding selling on Walmart Canada.
---
For e-commerce, one of the biggest challenges is increasing your sales in an already saturated marketplace. The most obvious strategy to increase sales is to sell on many different marketplaces and cast a broad net hoping to bring in more customers. Another strategy that some do not consider is casting the net even wider and selling in an entirely different country. One of the best ways to test those waters for U.S sellers is to consider the smaller but rapidly expanding Canadian e-commerce marketplace.
---
Canada recognizes two official languages: English and French
Before selling in Canada, there is a unique barrier to entry that needs to be considered for US sellers looking to enter the Canadian online marketplace. It is a legal requirement to list your products in both languages.This may pose an issue for more complicated products, but using Google Translate to build simple descriptions is an option. For anything more in-depth you may need to hire someone who is fluent in French to do the translating for you. You can try and find a freelance translator online on your own or you can look to sites like Upwork.com to aid you in finding reliable options.
---
Popular Canadian Marketplaces and Payment Options
There are a lot of similarities between Canada and the U.S in regard to major online retailers. Some of the bigger online marketplaces in Canada include:
Walmart

Amazon

Dell

Sears

Staples

Costco

Best Buy
Many of these companies are well established in both countries, which could prove to be advantageous for sellers looking to test the option of selling in multiple countries.
---
USA Sellers and Canadian Taxes
Taxes on goods and shipping in the US and Canada are similar, however, not the same. Each province is in charge of its own tax laws and each state and town in that province can also levy a tax. Depending on what province the purchase is made will affect what taxes are charged for the item. This link will take you to the Canadian Border Service Agency's website. There you will receive information on the costs associated with imports and the fees and taxes charged on foreign imports in Canada. Please also see this duty and tax estimation tool to get an idea of what fees could be attached with your products if and when you do start selling on Canadian marketplaces
---
Most popular payment methods in Canadian E-Commerce
There are several methods online vendors can use to collect payment in Canada; the most popular being credit card-based – Instadebit, Interac Online, and PayPal — but some vendors also offer the option for prepaid cards or prepaid vouchers. Of course, credit cards are also very popular in Canada. The following graph displays the most widely used cards according to their share of the market: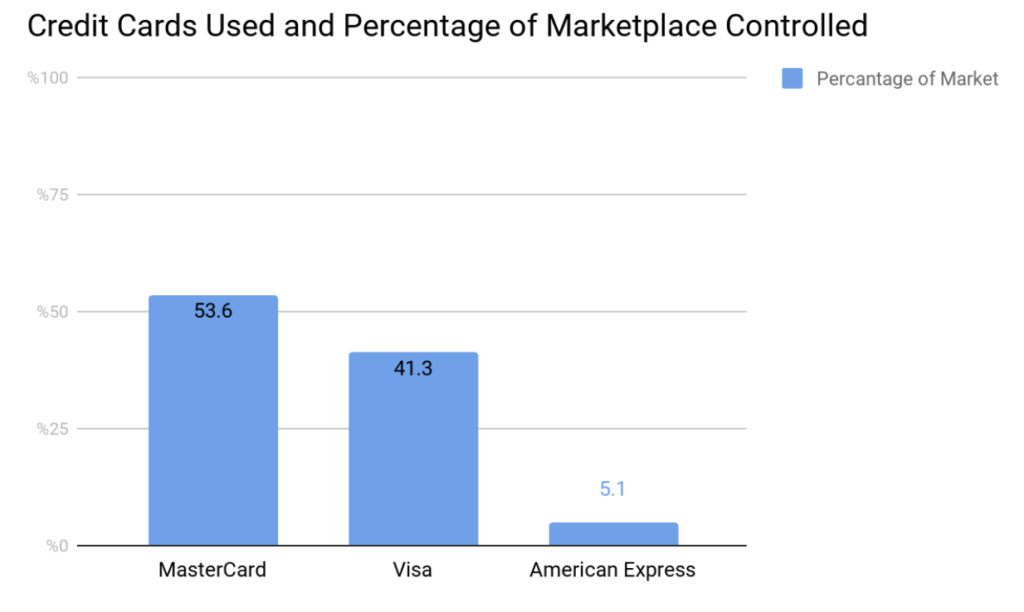 ---
Major Selling Holidays and Cultural Holidays
Canada also celebrates many of the same holidays and have similar times of the year where online sellers see an increase in sales (back-to-school shopping, for example). Another thing to note is that there are additional holidays in Canada that are historically tied to their days as a British colony and those days need to be considered. You may notice some changes in your sales on and around those holidays and be prepared to either fulfill more orders, or not be alarmed should sales drop off. Also, please note that even though Canada celebrates Thanksgiving on the second Monday in October, Canadian consumers do take advantage of Black Friday and Cyber Monday sales. The following is a list of major national Canadian holidays:
Christmas (December 25)

Boxing Day (December 26. Should this day fall on a Saturday or Sunday the following Monday is a work holiday and businesses are closed)

Back-to-School Shopping (August)

Mother's Day (May)

Victoria Day (May 24 Originally a celebration of the much beloved Queen Victoria and the current sitting queen.)

Canada Day (July 1 The day Canada became a dominion of the crown rather than a colony. Not as widely celebrated in the French Canadian regions)

Valentine's Day (February 14)

Easter (March/April)

Father's Day (June)

Halloween (October 31)
---
What Are Canadians Purchasing Online and How are They Doing It?
Canadian online purchases closely mirror the rest of the world in their decisions regarding what items they purchase online. The following were the top ten categories where purchases were made according to a 2016 report.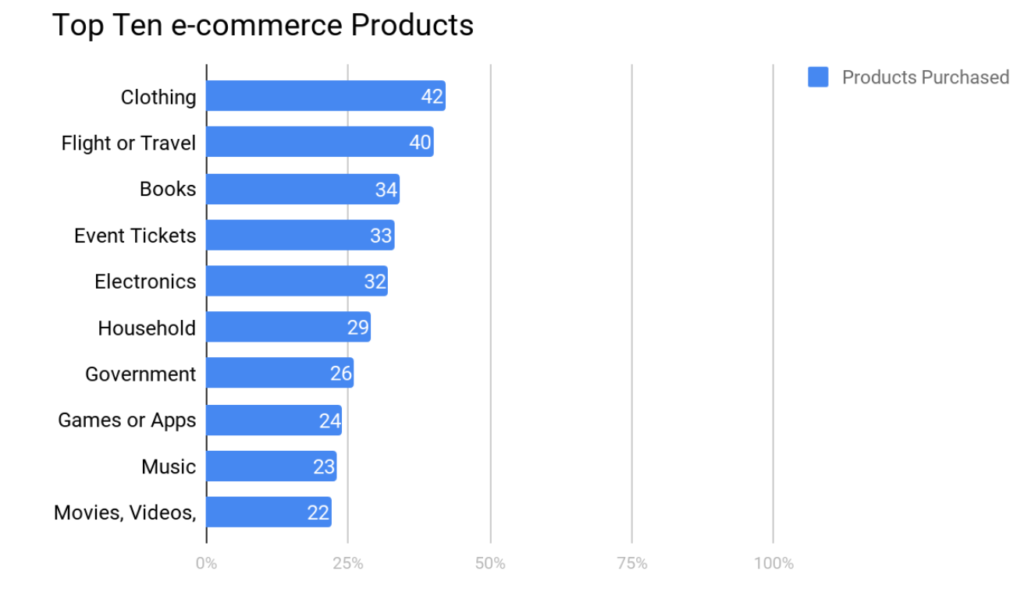 In the graph below you can see a breakdown of all Canadian online buyers and what platforms they used to make purchases. This is not a representation of all Canadian internet users, just users who have made a purchase online.The four categories are Internet users and three age brackets 18-34 year olds, 35-54 and 55 and older. You can see in the graph that at some point 95% of all internet users have made an online purchase on their laptop or desktop. 17% reported using a table,14% made a purchase on their mobile device, and only 3% made purchases using their television.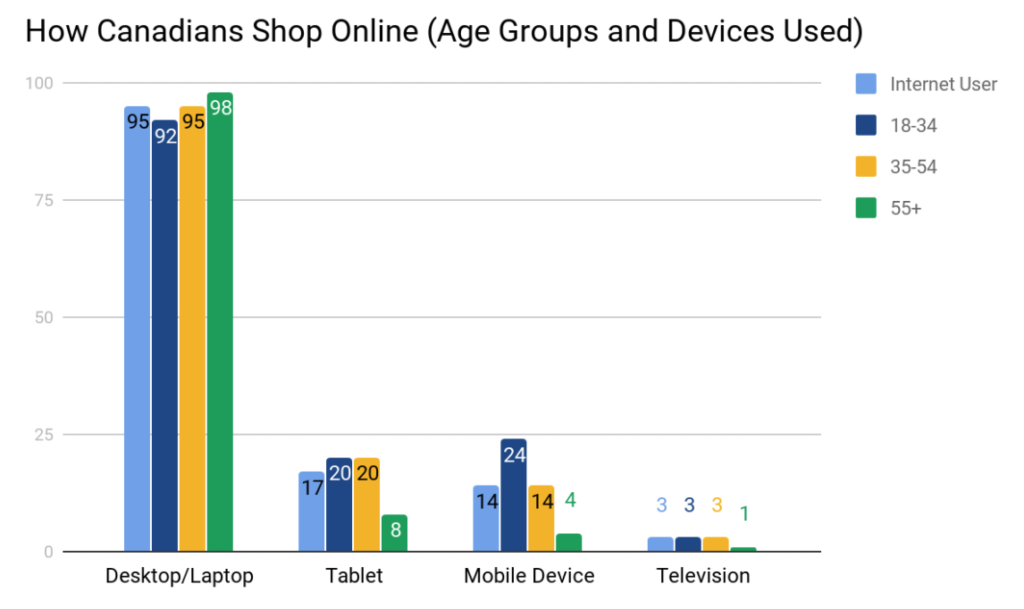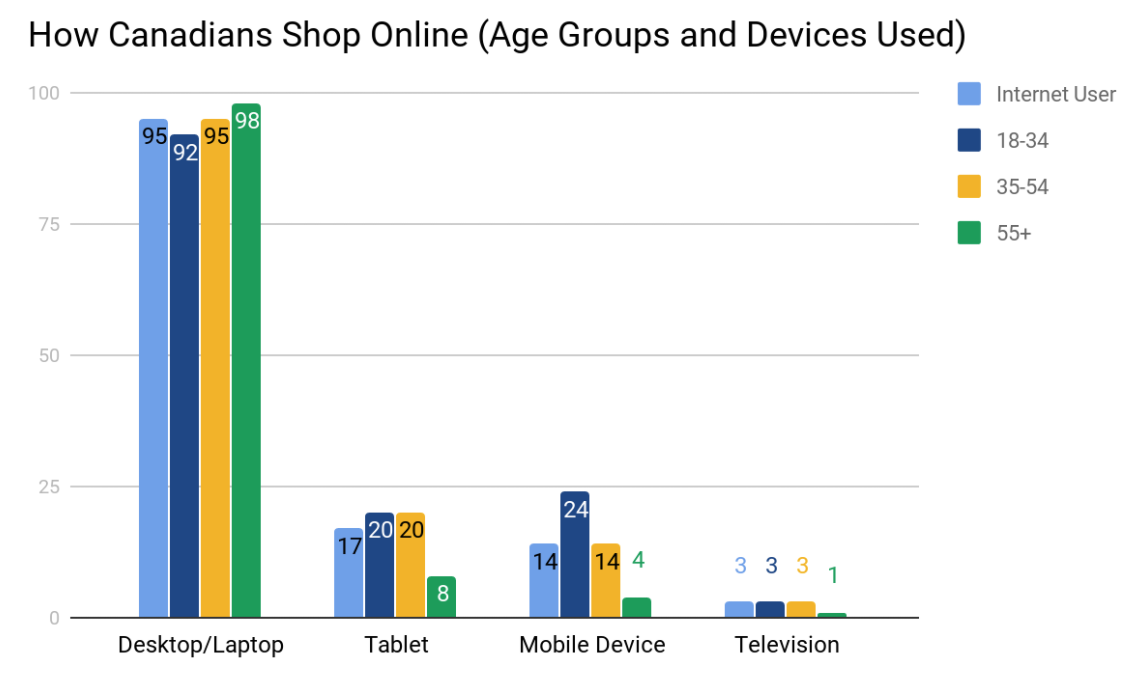 ---
US and Canadian E-Commerce Statistical Comparison
In both countries there is an upward trend in growth for eCommerce and online retail. According to an export.gov assessment of Canadian eCommerce in 2015, 84% of Canadians had purchased something online and more than 20% of Canadians shopped online about once per month. Compare that to a Pew Research study that found that 80% of US consumers shop via mobile phone or computer and 43% of those users made purchase either weekly or a few times a month. By 2019 it is projected that Canadian eCommerce sales will reach $50 billion Canadian dollars ($39 billion US dollars). That is an almost 50% increase from the $27 billion Canadian dollars in online purchases in 2015. Given the growth of online retail globally since 2000 it is safe to expect the expansion to continue and the opportunity to take advantage of that growth is something that at the very least, should be explored and considered.
Country

(Population)

% of Population Making
an Online Purchase
% of Population Making One
or More Online Purchases Per Month
U.S.A

(323.1 million)

80% (258.48 million)

43%(139 million)

Canada

(36.6 million)

84% (30.7 million)

20% (7.3 million)
---
Shipping Items to Canada
Shipping between the US and Canada is a relatively simple process, but there are some things to consider.
The United State Postal Service has a direct partnership with Canada Post. This reduces the amount of red tape to process. It will also be the cheapest option in most cases.

There are multiple providers when it comes to shipping. The USPS is a more hands on option whereas companies such as FedEx or UPS offer assistance and their expertise. This can come at an added cost, do your research and pick the best option to suit your needs.

Tracking is very important. Customs will not track your packages and should they get lost by customs officials you will need that number.

Confirm your marketplaces rules concerning delivery and the amount of time they allow for the package to ship. If a package does get caught up in customs, do they take that into account or will it negatively affect your metrics.
---
Summary
Expanding a business and increasing profits is always the goal for a business. It is a delicate process and needs to be approached and carefully with research, attention to detail, and a certain degree of caution. Expanding your business to an international marketplace is something that shouldn't be taken lightly. It is an option to explore for sellers who might be having trouble gaining traction in a saturated US marketplace. If you are going to explore the option of selling in Canada it is best to start with well established marketplaces like Walmart or Amazon.
GeekSeller is an official partner of Walmart Canada and we can assist you with the application process. If you want to apply to sell on Walmart.Ca please contact us and we will help you with the process.
---
Sources