Today we call ourselves a multichannel tool. However, back in 2015, GeekSeller was a tool that only supported Jet, and the first integration we developed was for ShipStation– for a while, the Jet and ShipStation integrations were the only ones we offered. A lot has changed since then, but not our relationship with ShipStation. Our companies cooperate in many ways, including participating in and sponsoring ShipStation events.
---
About ShipStation
Founded in 2011, ShipStation is a web-based software company located in Austin, TX that allows retailers to improve efficiency in processing, fulfilling, and shipping orders. ShipStation– acquired in 2014– exists as an independent subsidiary of Stamps.com and is operated by its existing management team. In the e-commerce industry, ShipStation is undoubtedly one of the most recommended solutions to manage orders.
---
Case Studies
Most common usage of GeekSeller and ShipStation integration
---
GeekSeller + Walmart + Deliverr + ShipStation
ShipStation is one of the popular integrations for our Walmart sellers. Users keep part of their inventory with Deliverr, "offering 2-day shipping on selected products," and manage remaining orders via ShipStation, shipping orders from local warehouse locations. GeekSeller directs orders to either ShipStation or Deliverr, based on factors such as inventory levels, buyer selected shipping method, amount of products in the order, etc.

---
GeekSeller + Walmart DSV + ShipStation
Walmart DSV is a unique marketplace; it requires sellers to ship products to customers directly but also requires sellers to ship products to Walmart stores for buyer pick up. On top of that, sellers need to create labels that bill Walmart the shipping cost–Walmart covers shipping cost for DSV sellers.
Those Ship to Store orders requires sellers to print additional labels called ASN labels. The power of the GeekSeller and ShipStation integration allows the ASN labels to be passed from GeekSeller to ShipStation as a link in order notes.
Thanks to the high capabilities of ShipStation, sellers can map Walmart's unique shipping methods and set up third-party billing, so Walmart covers the expenses of label creation.
For Ship to Store orders, we provide a link to the Store Label in the order notes, as shown.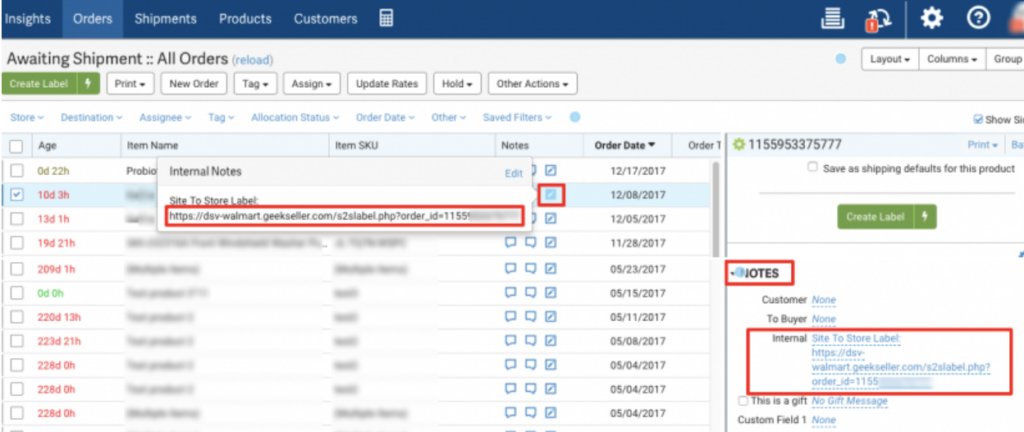 ---
GeekSeller + Google + Walmart + ShipStation
ShipStation does not support direct integration with the Google marketplace currently but with the GeekSeller extension, you can send your Google orders to ShipStation.

---
GeekSeller + 3rd Party + ShipStation
There are many 3rd party integration tools and sellers leveraging GeekSeller and ShipStation to create a flow that works for them. Below is how the Finale Inventory utilizes GeekSeller for their clients.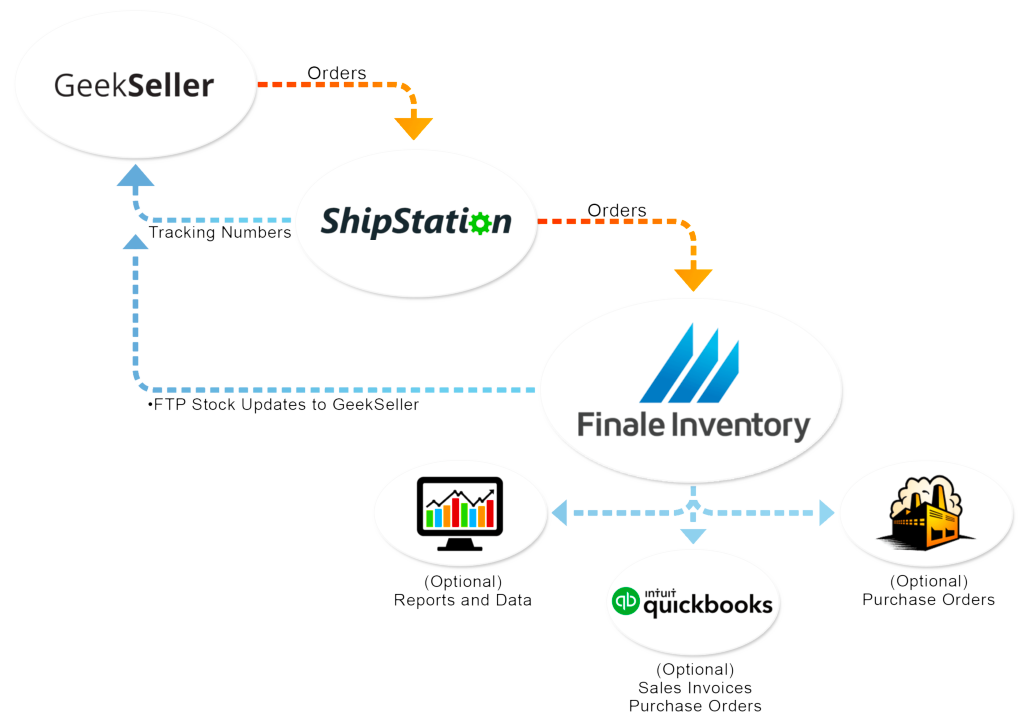 ---
Click here to start a free 30-day trial of ShipStation.